Hurricane Joaquin might be turning away from directly hitting NYC, but the storm threat is apparently quite the turn on for Craigslisters seeking casual encounters.
Even as new forecasts on Friday showed the Category 4 storm shifting East, dozens of people have turned to online personals for a chance to find romance, and no-strings-attached hurricane hookups this weekend. And with a separate storm pummeling the region with heavy rains, it's probably safe to say things are gonna get pretty, uh, wet out there. Just let that simmer a minute.
While there are way fewer listings than during the blizzard earlier this year, plenty of people are hoping to batten down the hatches (that's gotta mean something sexual, right?), and seeking activities like a "snugfest for the hurricane," "hurricane and chill?" and, of course, plenty of other NSFW fun (shown below). With that said, WARNING: some listings are extremely NSFW. 
Recommended Video
This Giant Banh Mi Weighs 4 Pounds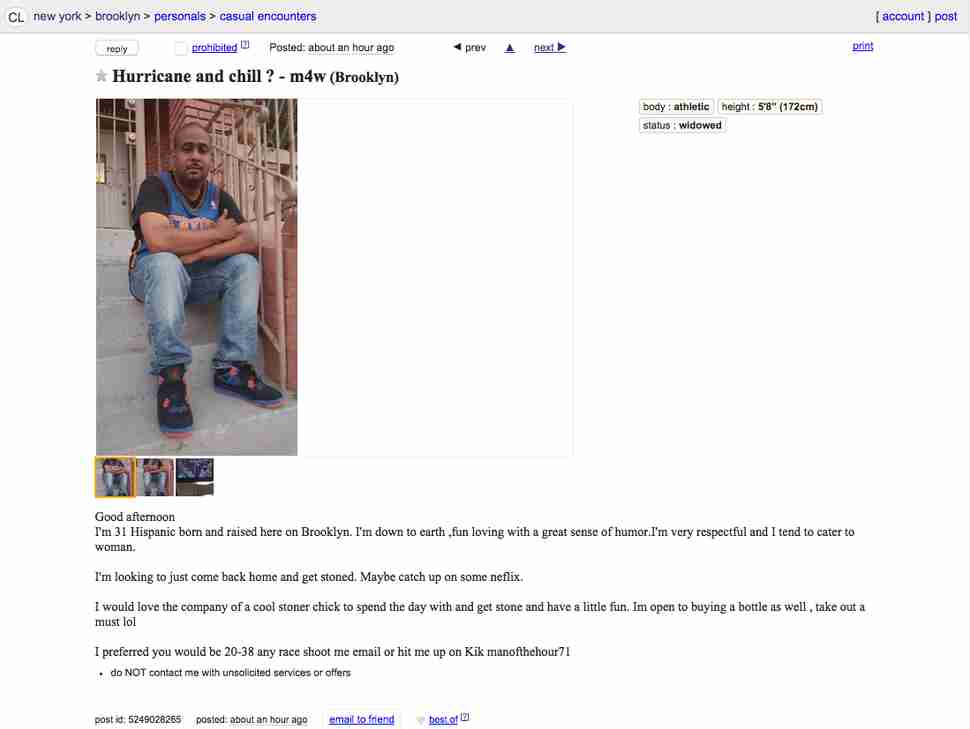 A Brooklyn man has put a timely twist (no pun intended) on the expression "Netflix and chill," asking local women if they'd like to "Hurricane and chill?" Needless to say, staying inside and watching Netflix is involved. That's not too much to ask, right? Oh yeah, and you should be 4/20 friendly, clearly.

An athletic Jersey Shore dude is hoping to get a long weekend out of the storm, which he fully intends to spend drinking and hanging out and partying with the ladies. Is that you, Mike Sorrentino?
This guy, stuck living in central New Jersey, wants you to get "stuck" with him in the storm. At least he's literally bringing something to the table, in the form of food and booze. All you have to bring is the cuddling.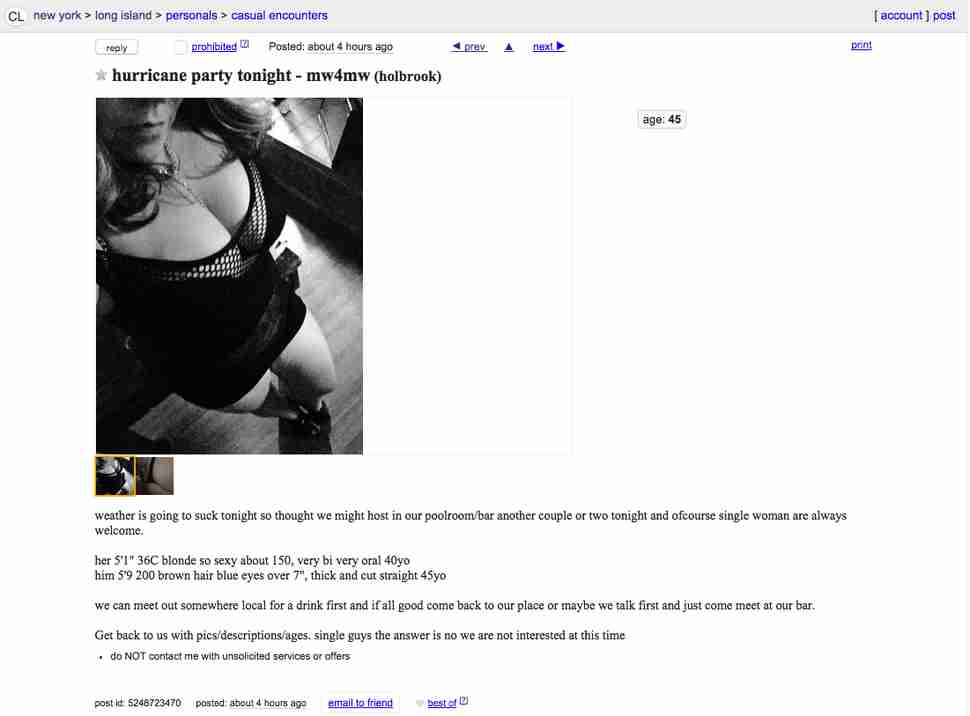 If you're looking for a "snugfest" to help you get through the hurricane, look no further than Southern New Jersey, where a self-described "attractive" young man is seeking a similarly "attractive" woman to hang out with, Netflix and chill with, and "go down on." Wait, does he mean to Australia?
She might be wearing a masquerade mask, but this poster isn't masquerading around about what she wants. As in, she wants "to spend my friday off sucking a horny straight white male's cock until it cums... Come in, unzip, feed me your cock and cum and go. No drama just adult fun - NO ROSES - just fun!!"
A little foreplay never hurt anybody, lady. 
Again, the title says plenty: there's a downright gentleman looking for some ass -- at least the "young, round, tight" variety. With such respect and forwardness like that, he's sure to find exactly what he's looking for out on Long Island. They don't call it Strong Island for nothing.

When man underestimates the power of nature, the result is almost never good. Well, at least unless you end up hooking up with this guy seeking another guy in New Haven, CT, who boasts the ability to "blow you so hard and good you will forget where you are , send you into another time zone." In other words, he'll unleash 130mph winds, heavy rain, and coastal flooding on your penis. Or something like that.
According to this guy's forecast, you'll make landfall at his house. He also mentions something about a "white flood," but we passed out from the gross image that came to mind and didn't get a chance to read the rest.
Basically, Craigslist is a helluva place to be right now. But no matter what you end up doing this weekend, be smart, be safe, and be sure to put on a raincoat. 
Sign up here for our daily Thrillist email, and get your fix of the best in food/drink/fun.
Tony Merevick is Cities News Editor at Thrillist and is constantly inspired by his fellow humans on the internet. Send news tips to news@thrillist.com and follow him on Twitter @tonymerevick.