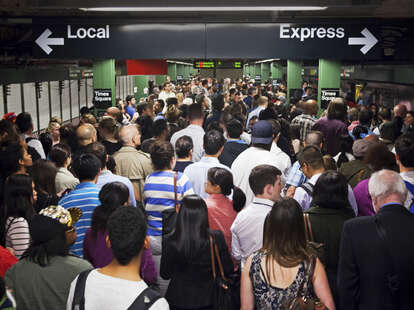 It's not just you — NYC's beleaguered subway system sucks more than it did last year.
A new audit released Thursday by New York State Comptroller Thomas P. DiNapoli found that the subway system's on-time performance has "steadily deteriorated" in the last year. Specifically, the MTA's ability to get trains to the end of their respective lines within five minutes of the scheduled time has declined to just 74% on weekdays and 81% on weekends due to overcrowding and unplanned maintenance, according to the audit. Yikes.
"The MTA has actually lowered its own expectations for addressing subway delays," DiNapoli said in a press release. "We're encouraged that MTA has put more money toward improving the ride for straphangers, hopefully it will help improve on-time performance."
Here's what you need to know from the audit:
Weekday on-time performance dropped to 74% in 2014, compared to 80.5% in 2013.
Weekend on-time performance dropped to 81% in 2014, compared to 85% in 2013.
The L train surprisingly had the best performance, at about 94%.
The 4 train had the worst performance, at just 50%.
The MTA's goal was 92%, which has now been lowered to 75%.
From March 2013 through March 2014, there were 498,889 subway delays reported.

In response to the report, the MTA said the audit's on-time measurements don't accurately gauge the system's overall performance, suggesting to The Wall Street Journal the focus should be on "wait assessments," or how well trains follow the scheduled times between arriving at stations so that wait times are consistent. With that, the MTA said it regularly holds trains to improve wait times, which could result in lower on-time performance.
But wait assessment performance is also getting worse, according to the audit:
"MTA indicates that wait assessment is its critical indicator, yet wait assessment has also been on the decline," the audit said. "Actual wait assessment was 80.3% for 2013 and 78.8% for 2014. For 2014, wait assessment was as low as 67.4% on the number 5 [train] and 69.6% on the A train."
That's all to say: the subway sucks just a little bit more now than it did last year. State auditors criticized the MTA for allegedly failing to provide solutions, and the comptroller is calling for a plan and to provide monthly progress updates.
Oh yeah, this all comes despite that nice fare increase this year. Hooray public transportation!
Follow us on Facebook for a steady stream of daily NYC stories, and be the first to get all the food/drink/fun/news New York has to offer.
Tony Merevick is Cities News Editor at Thrillist and feels like the subway has been nearly unusable on weekends lately. Send news tips to news@thrillist.com and follow him on Twitter @tonymerevick.