A Guide to Mask Requirements in New York and New Jersey
There's still some places you need to mask up.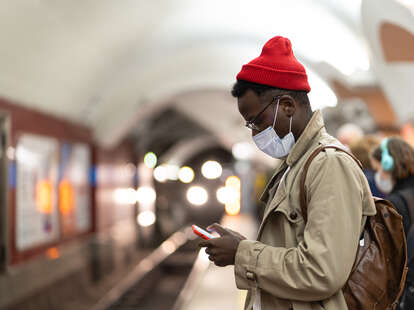 Dmitry Marchenko/EyEm/Getty
Two years into the pandemic, it can be hard to keep track of the latest masking guidelines. After living with a mask mandate from the start of the pandemic into mid-2021, New York state dropped its requirement once it achieved its vaccination goal. Then, masks were reinstated during the Omicron surge, only to be repealed again as it subsided. Even so, there are still places where you need to mask up.
Luckily, Thrillist has your back with all the latest requirements for wearing a mask in the New York area.
Where is a mask still required in New York state?
Masks are still required in certain high-risk settings, like state-regulated hospitals, healthcare facilities, and nursing homes. Congregate environments like correctional facilities, homeless shelters, and domestic violence shelters also require masks.
Governor Kathy Hochul announced on Sunday, February 27 that New York state's blanket mask mandate for schools would end on Wednesday, March 2. Decisions about masks in schools will now be left to local jurisdictions.
Federal law previously required masks on all forms of public transportation, including subways, trains, buses, and their associated stations, as well as taxis and ride share services. However, a federal judge struck down this transportation mandate on Monday, April 18, leaving the decision up to individual companies and transit agencies. Masks are no longer required in taxis, Ubers, or Lyfts outside New York City.
Where else is a mask still required in New York City?
Although New York City doesn't have many mask rules beyond the state, businesses and entertainment venues are allowed to require masks inside. Broadway theaters currently require all patrons to be masked, as do many museums and cultural institutions.
Despite masks no longer being federally mandated on public transit, the MTA is still requiring them on all city subways, buses and stations. John F. Kennedy International Airport and LaGuardia International Airport both still require masks, as do taxis, Ubers, and Lyfts within New York City.
The city dropped its requirement that students be masked outside on school grounds beginning Monday, February 28. Mayor Eric Adams announced the city's indoor school mask mandate would end on Monday, March 7, although students and faculty are still allowed to wear masks if they want. On Thursday, June 9, he announced that children 2–4 would no longer be required to wear masks in educational and childcare settings, eliminating the last mask restriction specifically for kids.
Local law in New York City previously required gyms, bars, restaurants, and large indoor entertainment venues to check your vaccine status to enter. However, Mayor Adams announced the vaccine mandate would also come to an end on March 7. Businesses are still allowed to check vaccines if desired, but will no longer be required to anywhere in the city.
On May 22, 2022, the city moved back to 'high' COVID alert status due to rising cases and strain on the healthcare system. The city health department is currently urging—although not requiring—high-quality masks like KN95 and KF94 in all indoor settings. Although the city has not brought back its indoor vaccine or mask mandate, it is advising high-risk residents like the elderly and immunocompromised to avoid crowded indoor settings whenever possible. You can learn more about health department recommendations here.

What are the current mask rules in New Jersey?
Many people commute between New York and New Jersey, but the mask guidelines differ between the states. Students and faculty at schools in New Jersey are no longer required to wear masks indoors as of Monday, March 7. The state does not have an indoor mask mandate. Previous local mask mandates in Newark, Hoboken, and Montclair have since been repealed.
New Jersey Transit no longer requires masks except in Penn Station or the Port Authority Bus Terminal in New York City. Masks are still required on the PATH system.
Chris Mench is an editor focusing on NYC News at Thrillist. You can follow him on Twitter for more of his work.