"Mirror Labyrinth" & Walls of Jetting Water Coming to Brooklyn Bridge Park
Starting May 17th, you'll be able to walk through a crazy maze of mirrors and stand in a grid of rooms with walls of jetting water as part of an interactive public art exhibition at Brooklyn Bridge Park. The installations are two of several attractions that will make up "Please Touch the Art" by Danish artist Jeppe Hein, and will remain at the park until April 17, 2016, according to an announcement from the Public Art Fund.
Described as a "Mirror Labyrinth," the polished stainless steel installation has zero David Bowie, but plans to alter "the perceptions of visitors" anyway and generally sounds like it's going to be kind of trippy -- allowing visitors to walk through three radiating arcs of mirrors with varying heights, strategically spaced apart so that your reflection will appear to multiply.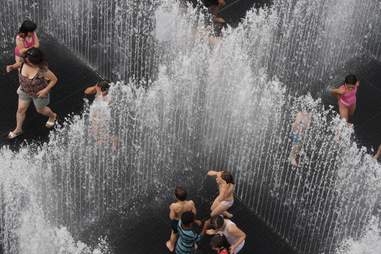 Courtesy Public Art Fund
The water display, or "Appearing Rooms," will be be installed on the Bridge View Lawn and will shoot water up from a gridded base to form 7ft "walls" that will appear and disappear within moments while visitors move through the spaces without getting wet -- or you know, just emphatically run through them in the summer sun.
The exhibition will also include 16 oddly-shaped benches that twist and curve like the landscape of the park and offer visitors places to sit and recline in strange ways unlike your typical public bench. Unsurprisingly, they're titled, "Modified Social Benches."
Tony Merevick is Cities News Editor at Thrillist and the jetting water rooms reminds him of that one scene in the awesome '90s movie, Blank Check. Send news tips to tony@thrillist.com and follow him on Twitter @tonymerevick.