These Limited-Edition Notorious B.I.G. MetroCards Are Selling for Almost $5,000
Biggie fans can scroll through eBay to find the best deal.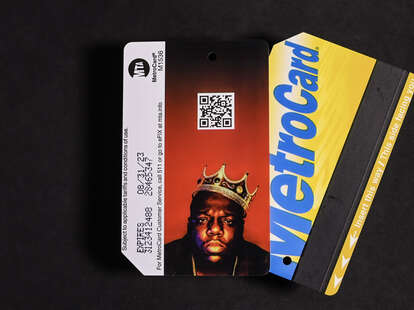 Photo courtesy of Marc A. Hermann/MTA
On May 21, New York City celebrated the King of New York's birthday. The late rapper The Notorious B.I.G. would've turned 50, and the city came up with many initiatives to honor the beloved New Yorker. One of them was limited-edition MetroCards.
The MTA released 50,000 subway cards featuring the world-famous photo of Biggie wearing a crown, and New Yorkers lined up for hours to try and snag one at four select Brooklyn stations. The location choice of Brooklyn is a nod to Biggie's life and career. The rapper grew up in Bedford-Stuyvesant, and never failed to rep his neighborhood in his songs.
Those who missed out or came late to the party can still get them, but they'll have to pay up. A few Biggie MetroCards are still in circulation, but fans will have to turn to eBay to buy one. Most of them are listed for a reasonable or somewhat affordable price, which can range from $55 for a scratched card to $75 for a laminated version, Curbed reports. The highest seller, though, set the bar much higher. A Biggie MetroCard is currently listed for $4,899 which, according to the post, includes expedite shipping. If you decide to go for it, you have to be sure of your investment, as the seller doesn't accept returns.
Biggie's birthday celebrations took over the city on the rapper's birthday weekend. To further honor the hip-hop legend, the Empire State Building lit up in red and white on May 21, and featured a crown rotating around its mast to celebrate Notorious B.I.G's multi-platinum album Ready to Die, which featured world-famous hits like "Big Poppa" and "Unbelievable." On the same day, to honor the born-and-raised Brooklyn star, Barclays Center presented a montage video of Biggie's most famous records above the stadium's entrance.