The best thing about fall isn't pumpkin spice lattes or Harry Potter marathons. It's the colorful trees and crunchy leaves. If you're not fortunate enough to live in a place that experiences this seasonal phenomenon, you're definitely missing out. But thanks to a glorious invention called the internet; you can always observe from afar.
NASA just released new images of some gorgeous fall foliage from very far away. We're talking about the atmosphere's edge, and the colorful shots don't disappoint.
NASA's Landsat 9 satellite has a unique view of deciduous trees and conifers in the Adirondack Mountains. In the images, you can see a wide scope of yellow and red shades thanks to the variety of trees in northeastern New York.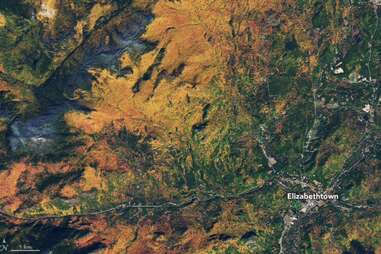 Adirondack Park is completely decked out in sugar and red maples, as well as bigtooth aspens and eastern larches. Each of these tree varieties changes colors once the temperature drops. Shorter days and smaller amounts of sunlight trigger the trees to stop the production of chlorophyll—that's the stuff that makes plants green.
NASA launched the Landsat 9 satellite in partnership with the US Geological Survey in 2021 with the intent to monitor and better understand how to best manage the land resources required to sustain human life.
Landsat 9 isn't the only satellite putting in work this week. Yesterday, NASA unveiled a stunning shot of the iconic Pillars of Creation from the James Webb telescope.