New Beach Bazaar Set to Bring Food, Free Shows & More to the Rockaways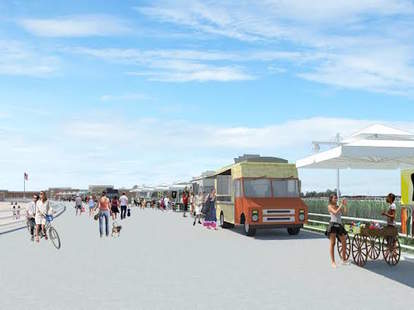 Courtesy of Riis Park Beach Bazaar
The people behind the Brooklyn Night Bazaar have announced they're heading to the Rockaways and launching a beach bazaar at Jacob Riis Park, called, wait for it... Riis Park Beach Bazaar, where they're promising free concerts, entertainment, shopping, a bunch of food vendors, and drinks, on the waterfront. 
The beach bazaar will open just in time for Memorial Day weekend with all sorts of vendors including artists, breweries, and wineries, as well as free concerts on Saturday and Sunday afternoons throughout the summer. Along with the shopping and entertainment, the bazaar will feature a pretty great lineup of food options like Ample Hills Creamery, Fletcher's BBQ, and other heavy hitters.
Since it's at a freaking beach, you can expect a variety of activities like beach volleyball, ultimate frisbee, sand soccer, paddleball, and other beachy activities. They're also planning one-off events like a kite flying festival, a sand sculpting competition, wine and craft beer festivals, and even car expos.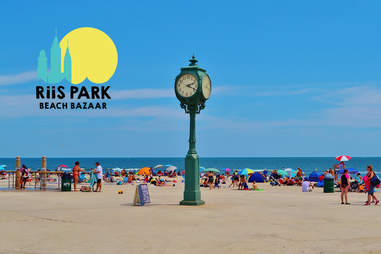 Courtesy of Riis Park Beach Bazaar
If that all sounds like too much and you just want to kick back and relax on the beach, they've got chair and umbrella rentals. And you won't even have to move a single sandy foot to get food and drinks because they'll be taking orders via your phone and deliver it all right to your chair.
The food vendors will be set up in the huge Bay 9 and Bay 6 concession areas every day from 11am to 10pm through Labor Day weekend. There will also be rotating mobile food vendors throughout the summer.
Here's the current lineup of food offerings for Bay 9 and Bay 6:
Ample Hills Creamery:​­ Your favorite Brooklyn-based scoop shop, known for its handmade ice and flavors like Salted Crack Caramel and Stout & Pretzels, Ample Hills Creamery plans to unleash new unique flavors just for the beach bazaar. 
Brooklyn Star:​­ Get your hands on their famous chicken and waffle cone, only at Riis Park. 
Court Street Grocers​­: They'll be serving up sandwiches described as throwbacks to American beach classics.
Wild Feast Foods:​­ Insanely fresh seafood caught right here on the East Coast, a lot of it within 20 miles of the park.
Fletcher's BBQ​­: All kinds of BBQ fare smoked over maple and red oak at a mobile pit that will be set up right next to the Bay 9 food area.
La Newyorkina​­: What could be a better on a hot day at the beach than refreshing Mexican ice pops made with fresh fruits and juices? 
To help you get there, organizers said they're working on arranging dedicated shuttle bus service throughout NYC, increased ferry service at Riis Landing, and car share options.
Follow us on Facebook for a steady stream of daily NYC stories, and be the first to get all the food/drink/fun/news New York has to offer.
Tony Merevick is Cities News Editor at Thrillist and would love to spend some time at the beach in the near future. Send news tips to news@thrillist.com and follow him on Twitter @tonymerevick.