Editor's Note: Want to see more bizarre, hilarious, inappropriate, amusing, and possibly useful stuff we've found on Craigslist? Check out last week's roundup, and if you're feeling really adventurous, the selection from two weeks ago, featuring live cockroaches and a human skull. Enjoy!
Craigslist is undoubtedly one of the best places to get rid of your old stuff, make some extra cash... and apparently, unload the freaky stuff lying around your apartment, shed, or hidden dungeon. In our search for the strangest, most amusing things people are trying get you to pay them real money for, we've come across things like a mini stallion and even a live tarantula. We wandered through the for sale listings around the NYC area again this week, and this is what we found.
Note: some of these are really NSFW...
Recommended Video
Please Don't Hang Up: Miami
Price: $300
Location: Saugerties, NY
This listing is pure, vintage horror. According to the seller, the machine dates back to the early 1900s and, somehow (the seller doesn't elaborate), was "picked from a New York psychiatric center." WTF? Adding to the terror, the machine comes with arm and leg cuffs, oh, and freaking penile, vaginal, and anal probes. The seller doesn't state whether the machine has been used, but said it comes with hand-written instructions. NOOOOOOOOOPE.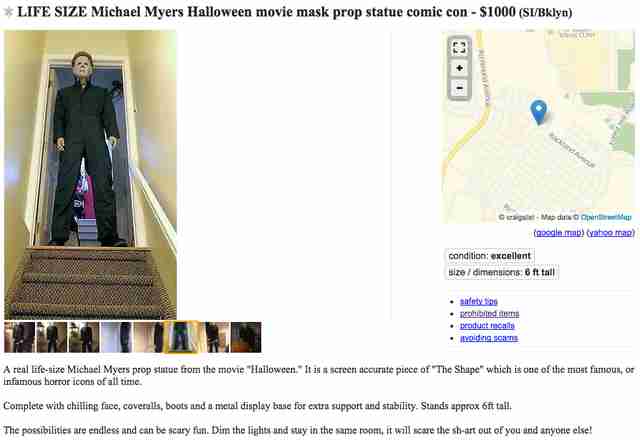 Price: $1,000
Location: Staten Island
Need a "screen accurate," life size statue of Michael Myers from "Halloween" to scare the living crap out of someone? This listing might do the trick, what with the knife in his hand an all. Measuring 6ft tall, the statue can be taken apart and strategically placed in dark walkways, closets, and staircases, or you can prop it up in your room to watch over you while you sleep.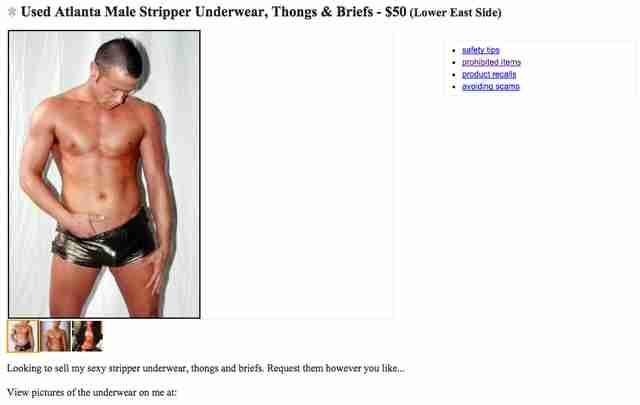 Price: $50
Location: LES
A male stripper from Atlanta wants you to take his underwear off ... his hands. For 50 bucks, you can get this guy's used thongs, underwear, and briefs -- some of which he models in the listing photos. While he doesn't provide any additional details, the listing does say that you can, "Request them however you like..." How about stuffed full of dollars???
Price: $900
Location: New Jersey
Here's a simple and practical human storage solution you probably won't find at Ikea. The custom-made cage -- about 30in tall, 42in long, and 30in wide -- is allegedly easy to take apart and re-assemble for traveling -- that is, if you're not trapped inside of it. Luckily, the cage comes with luxurious and comfortable-looking red padding -- 2in on the top, 1in on the bottom. But for $900, you'd think they'd throw in a lock, too, right? Deal breaker.
Price: $400
Location: UWS
Remember Eminem? Well now you can immortalize Slim Shady by putting this really intense-looking portrait of him on your wall -- right next to your newly-acquired "Steve Buscemi Is Superman" piece. That's right, somebody painted a portrait of Eminem, and wants to sell it to you for $400, which is apparently negotiable. Eminem hasn't looked this good since ... well, ever. 
Tony Merevick is Cities News Editor at Thrillist and wishes he had an expense budget just for Craigslist finds. Send news tips to him at tony@thrillist.com and follow him on Twitter @tonymerevick.