Courtesy Friends of + POOL
For years, we've been teased with plans and renderings for a futuristic floating pool on one of NYC's waterways. But now, it appears the cross-shaped water-floating-on-water project -- or + POOL -- is close to actually living somewhere outside our dreams.
Friends of + POOL, the non-profit group behind the pool plans, announced it has chosen 10 sites scattered across NYC's harbors and waterways where its marine engineers and water quality experts will conduct feasibility studies and tests to determine the best places for the 200ft by 200ft swimming hole. Just last summer, the organization proved its technology successfully filters NYC river water -- yes, the actual sludge that surrounds the boroughs -- to safe pool water quality without having to use chemicals, which transformed the idea into an actual project.
Once a potential site checks out, the group can begin work on the estimated $15 million project, like getting city approval, according to Archie Lee Coates, co-designer of the project and co-founder of Friends of + POOL. "After this testing, we'll be finishing site-specific final designs so we can hand them off to the city, apply for permits, build this thing and finally all swim in the river together," Coates said in a statement.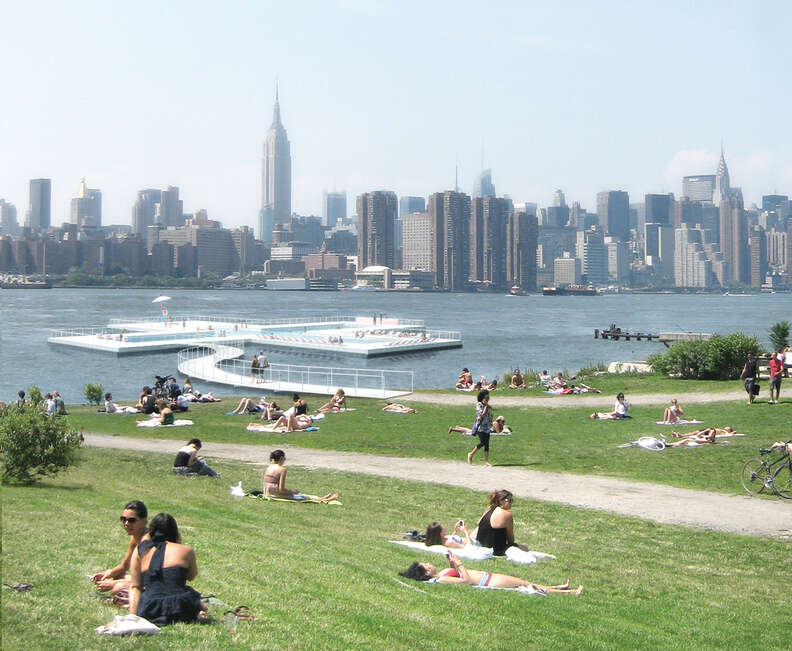 However, just how many people who are willing to swim close to polluted rivers in filtered river water remains to be seen.
As for the 10 sites under consideration, the pool people are eyeing Bush Terminal Park, Brooklyn Bridge Park, Domino Sugar Factory, Governor's Island, Hallet's Point, Hudson River Park, Hunter's Point, St. George, Transmitter Park, and Two Bridges, according to a press release.
So, um, will the Hudson River have a fancy billionaire-backed floating parkand a futuristic floating pool someday? Maybe. We'll believe it when pools fly.
Follow us on Facebook for a steady stream of daily NYC stories, and be the first to get all the food/drink/fun/news New York has to offer.
Tony Merevick is Cities News Editor at Thrillist and the whole idea of swimming in (and near) the East River reminds him of a Seinfeld episode. Send news tips to news@thrillist.com and follow him on Twitter @tonymerevick.