You Can Sip a Cocktail 101 Floors Above Manhattan at This New Hudson Yards Lounge
Peakaboo operates one floor above the famous Edge observation platform.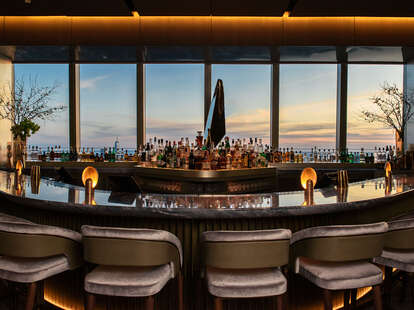 Manhattan has no shortage of sky-high dining and drinking options, but this new late-night spot in Hudson Yards is towering over the competition.
30 Hudson Yards is already home to fine-dining establishment Peak and the popular outdoor observation platform Edge. Now, it adds late-night cocktail bar Peakaboo to its arsenal.
The nightlife spot opens this Saturday, February 5, inviting patrons to drink and dance 101 floors above Manhattan. Peakaboo features a 12-seat bar as well as a 60-seat lounge located inside Peak. There are 1,300 wines to choose from—starting at $12 per glass—as well as over 300 spirits, bottle service, and light bar bites.
"I want our guests to know they are in a luxurious setting with exclusive opportunities," said Beverage Director Zack Kameron to the New York Post.
But with a location 1,149 feet in the air, the biggest attraction is sure to be the view:
Peakaboo will be open Thursday through Saturday until 2 am, although the hours could be extended if there's demand from the late-night crowd. With plans for DJ performances, that certainly seems like a possibility.
"We wanted to create a late-night extension of the Peak dining experience and felt that it was the right time to develop an upscale, stylish nightspot for the area," said David Edwards, director of operations for Peakaboo's parent company RHC. "Peakaboo will allow us to welcome more guests to the 101st floor of 30 Hudson Yards, sharing the incredible space and stunning views with New York City locals and visitors alike."
Chris Mench is an editor focusing on NYC News at Thrillist. You can follow him on Twitter for more of his work.