Craigslist is a pretty awesome place to get rid of your old stuff and possibly make some money, but it's also where you'll find other people trying to get you to pay them real money for some pretty interesting things -- you know, like breeding animals and old human bones. We wandered through the for sale listings around NYC again this week, and basically, the world is a horrifying place.
Note: some of these are really NSFW. 
Price: $1,000
Location: Manhattan
"Need sperm?" To make some extra cash and help people in need of sperm, this father of six children wants to sell you his semen. He's Puerto Rican, 6ft tall, 200lbs, and probably violating some Craigslist term or condition somewhere. Also, he never mentions how said sperm would be delivered in the event someone is interested in purchasing it. 
Recommended Video
The Best Things to Do and See in Puerto Rico
Price: $50 (negotiable)
Location: Brooklyn
Ever wanted to turn your apartment into a ball pit? Looks like you can do that for even cheaper than that Ikea furniture you still haven't put together. Apparently, they were used for a photoshoot, but now you can dump all eight boxes of them all over your living room and never grow up. Ever. 
Price: $5
Location: New Jersey
Someone in New Jersey is selling what New Yorkers can probably get for free: cockroaches. And not just any ol' roaches, Madagascar Hissing Cockroaches. According to the seller, you'll need to bring your own plastic container with a moist paper towel in it to pick up these "live young specimens," or maybe just a really big shoe. These are perfect for planting in the apartments of your enemies and rivals, and at only $5, way more economical than sending poop in the mail.
Price: $1,200
Locatiom: Queens
Forget about those phony plastic skulls and bones, apparently this person is selling the real deal: an "antique real human skull." Oh, and if the skull -- the source of which the seller does not disclose -- is not terrifying enough, be sure to pick up the "antique press from 1863" that, together, makes this the perfect decoration for the nightstand next to your torture chamber bed.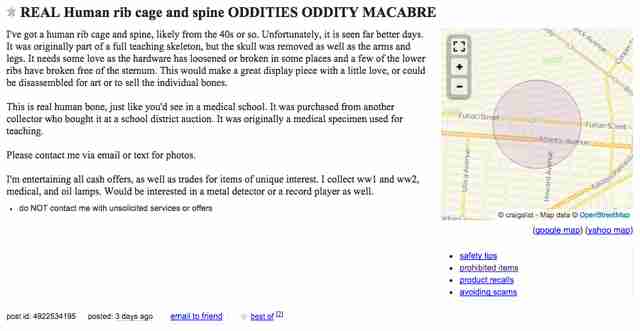 Price: Cash offers
Location: Brooklyn
Oh, and in related news, you can also get your hands on a real human rib cage and spine -- though this seller admits the bones have "seen better days." Would those be the days in which the bones used to be part of a living body? The seller believes they date back to the '40s and were originally part of a teaching skeleton that ultimately lost its head, arms, and legs. Maybe the skull is trapped in someone's antique press? Cash only.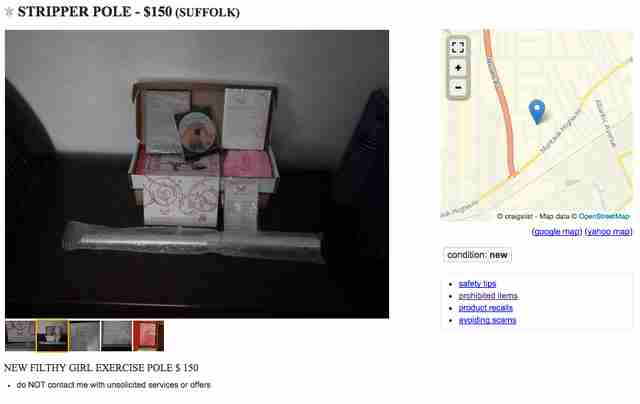 Price: $150
Location: Long Island
Forget about strip clubs. Bring the freaking show home -- or, specifically, to your studio apartment where it will fit perfectly with the current decor. While the listing title calls it a stripping poll, the seller later tries to describe it as an exercise poll; specifically, a "NEW FILTHY GIRL EXERCISE POLE." Pretty sure the packaging says "Flirty Girl," but OK...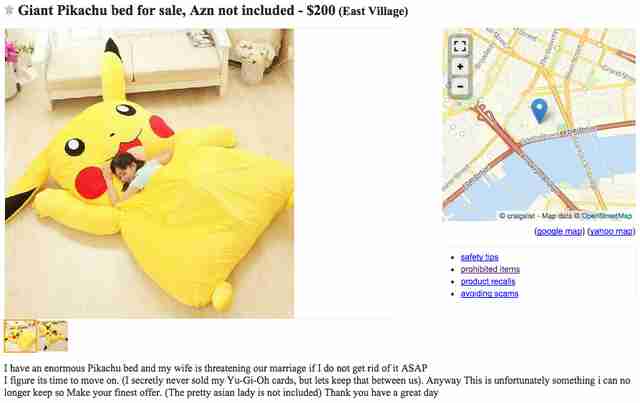 Price: $200
Location: Manhattan
Sleep like a true Pokemon Master in the adorable pouch section of this gigantic Pikachu bed -- presumably stolen directly from the home of former child star Ash Ketchum. "My wife is threatening our marriage if I do not get rid of it ASAP," the seller writes in the ad. Good luck with that, buddy.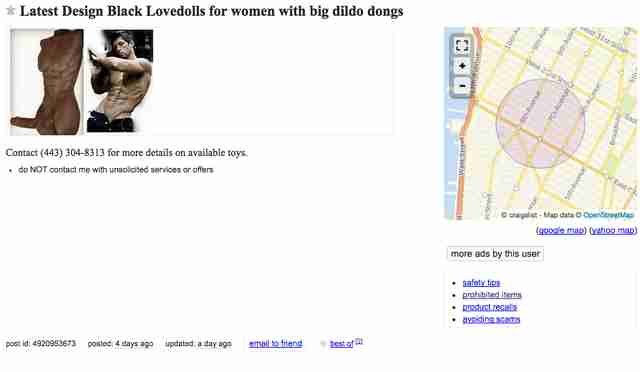 Price: Not listed
Location: Queens
Welp, the listing title really says it all here, folks. There's a phone number included in the description for those interested in inquiring. Appears to be the male body equivalent of that Realdoll we showed you a couple weeks back. [Editor's note: This item has since been flagged and removed from Craigslist. Probably because demand was so high? Good thing we screenshotted this for posterity, and so we can remember the phone number for emergencies.]
Price: $200
Location: Philipstown, N.Y.
We'll let the seller explain this one verbatim: "Opportunities like this are almost as rare as hen's teeth! For your consideration, this gorgeous bonded breeding pair of Ko Shamo chickens. The male is 2 years old and the female was hatched September 2013. They are looking for a new forever home together." 
Tony Merevick is Cities News Editor at Thrillist and is scared of ball pits. Send him news tips at tony@thrillist.com and follow him on Twitter @tonymerevick.