Just like Craigslist is a pretty great place to sell your old stuff, it's also where you'll find other people trying to get you to pay real money for their old things -- like smelly used socks and even huge masturbating machines. This week, we wandered through the for sale listings in the greater NYC area and, basically, the world is a terrible, horrifying place. 
Note: a lot of these are really NSFW.
Price: $30
Location: East Village
If you're like most people and are just sick and tired of your own smelly socks, now you can buy someone else's. Rest assured, the seller here promises the socks are extra smelly and used since they wear each pair for two days at a time, according to the listing. So what's in it for the seller, besides the $30 bucks? "It gets me so hot knowing that you love the scent of my feet," the listing says. We're wondering how they preserve the smell in the shipping process. 
Recommended Video
This Burger Weighs 15 Pounds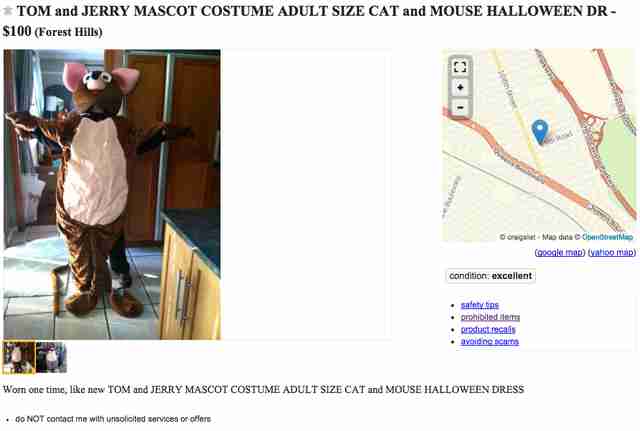 Price: $100
Location: Forest Hills
Check out how authentic these full-body Tom and Jerry costumes are! Seriously, they don't look creepy or not like the cartoons we loved growing up at all! No way. Basically, get your best friend or significant other to throw down half and you've got this year's Halloween solved. According to the seller, they've only been worn once.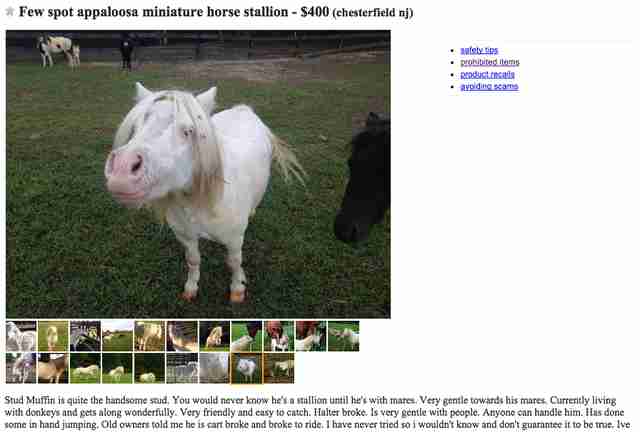 Price: $400
Location: Central New Jersey
Ladies and gentleman, meet Stud Muffin! He's 10 years-old, about 31in tall, and loves the ladies, hence the name Stud Muffin. "You would never know he's a stallion until he's with mares. Very gentle towards his mares," the seller said in the listing. He also gets along well with donkeys and humans. Basically, he's like the long lost brother of Li'l Sebastian from Parks and Recreation. RIP Li'l Sebastian. 
Price: $9,999,999
Location: Manhattan
You might think $9,999,999 is a laughably low price for a soul, but this seller is "SERIOUS," like ALL CAPS serious! While they don't specify what condition this soul will come in, or whether they're able to ship it nationwide, the seller does note, "Serious inquiries only. If you are serious, I will reply shortly." Oh, and you might want to try talking them down, seeing as it's pretty clear they're having a hard time moving this merchandise. "I am SHOCKED that in all of NYC there isn't one person who can contact Satan and have him get in touch with me," the listing states. "He can reply to this email." The Dark Lord will probably get right on that...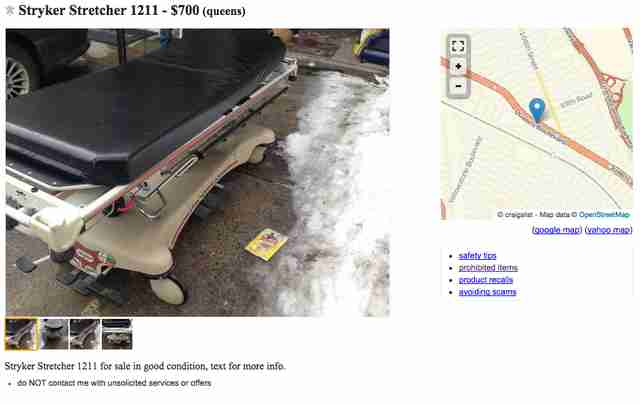 Price: $700
Location: Queens
Here's a nice, comfortable-looking stretcher that's perfect for lounging on in your living room, or creating a mobile coffee stand in your office, or for when the Ambulance forgets theirs.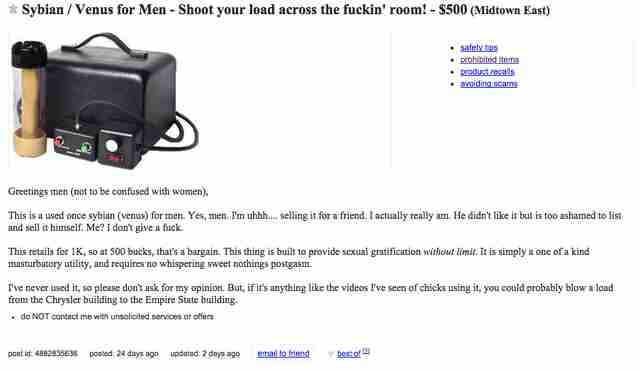 Price: $500
Location: Manhattan
If you're like us, you might be surprised that such a heavy-duty looking machine exists for the purpose of masturbating, but then again, why the hell wouldn't someone make this? Apparently, it's called a "Sybian" or "Venus," it looks like a small guitar amp, and it's for men. According to the listing, the cum contraption has only been used once and the seller is "selling it for a friend." Uh huh. While we haven't tried it and probably wouldn't recommend it, the listing notes this thing will make you, "blow a load from the Chrysler building to the Empire State building." 
Price: $695
Location: New Jersey
This item was apparently "rescued" from an old and defunct hospital in New Jersey, according to the listing. And while it's a bit pricey at close to $700, this vintage light fixture will add the perfect creepy element to your living room, study, or basement torture chamber. Or maybe as a night light, and you can just think about all the people who looked into the light while on the operating table. What could be more comforting?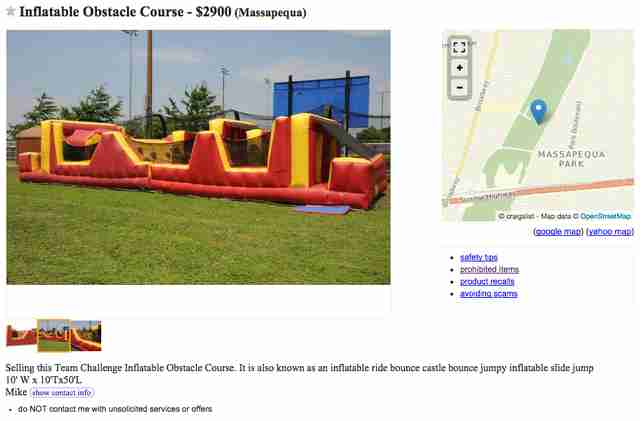 Price: $2,900
Location: Long Island
Dreams really can come true. You can finally own your own massive inflatable obstacle course. It's more advanced than your typical bouncy castle and probably has more square footage than your apartment. But think about the exercise opportunities here. Going to the gym is for people who take themselves too seriously.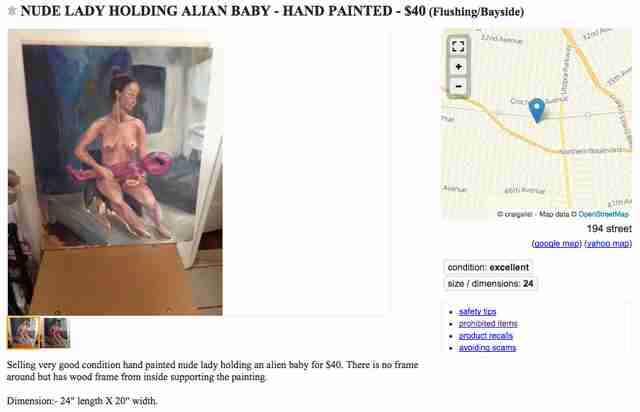 Price: $40
Location: Flushing/Bayside
Last week, we showed you the masterpiece that is "Steve Buscemi Is Superman," and now you can start clearing space above your imaginary mantle for this stunning composition, showing a naked woman holding a pink alien baby. The listing offers no explanation as to who the woman is or where she got the alien (or where they are now!), but notes the painting is 24in by 20in and that they will only accept cash. $40 seems like a totally reasonable price, but you might be able to work them down to $35 if you play your cards right.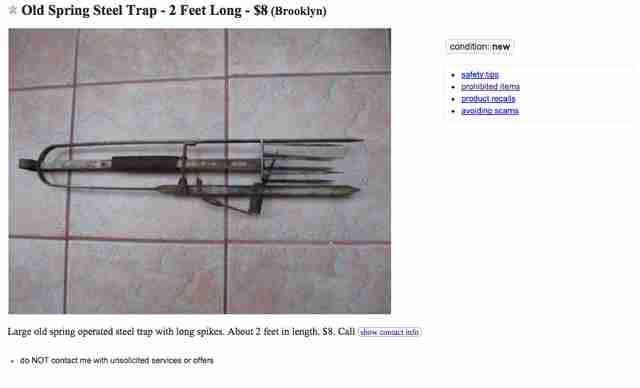 Price: $8
Location: Brooklyn
Two feet long. Spikes. Trap. Ummm. We have no idea how this thing works, but it looks and sounds terrifying. Not sure whether to nod in approval at the reasonable asking price, or even more terrified to think about all the people who could actually afford to own this thing.
Price: $175
Location: Bushwick
Yeah, so this isn't quite a Bugaboo, but it's a vintage and "extra charming" baby carriage perfect for the further congestion of NYC sidewalks. As the picture shows, it's not at all creepy or straight out of that scene from Ghostbusters in which a very similar looking carriage carrying Sigourney Weaver's baby, Oscar, traverses a puddle of pink slime and is sent speeding into oncoming traffic by a malicious, unseen force. We'd totally feel comfortable putting a baby in it.
Tony Merevick is Cities News Editor at Thrillist and would freaking love to own that inflatable obstacle course, so what does that say about him? Follow him on Twitter @tonymerevick.