Just like water is wet and gravity makes apples, it's also incontrovertible that if you spend time on Craigslist, someone will try to sell you something scary. Or a lot of scary things -- like some vintage rectal examination equipment or hundreds of haunted puppets. This week, we poked around for sale listings in the greater NYC area and, basically, the world is a terrifying place.
Note: a lot of these are really NSFW.
Recommended Video
4 Inventions You Need to Up Your Camping Game
Price: $7
Location: Queens
You'll never know you needed a 50lb bag of rabbit manure until you need a 50lb bag of rabbit manure. Fresh rabbit manure! The stuff is great for your vegetable garden, according to the seller. If you really want to be fancy, you can make something called "manure tea" by dissolving the turds in water, but that is only according to the listing and IS NOT CONFIRMED AND WE DID NOT DRINK MANURE TEA AT THE OFFICE TODAY.
 
Price: $350
Location: Brooklyn
If you live anywhere near East Harlem, you might have a plentiful supply of rats to get rid of, and this seller might have a slithering solution for you: a 5-year-old red-tail boa. According to the listing, the snake eats large, frozen rats. For just $350, you'll also get the snake's custom enclosure/tank with temperature control and cabinets for storage. You'll have to find your own rats.
 
Price: Best offer (!)
Location: Jersey City Heights
For reasons that are totally beyond us, this magnificent piece of art isn't hanging in a museum somewhere... because it's the most amazing freaking painting ever! Steve Buscemi. As Superman. Oil on canvas. That's right, the irresistible -- the one and only -- Steve Buscemi. And somehow, this person is trusting us with the opportunity to purchase this excellent creation and preserve it for future generations as a glimpse at our culture. And while the seller is "sad to see this go," they are hoping to find someone who can appreciate "Steve Buscemi Is Superman" for the right offer.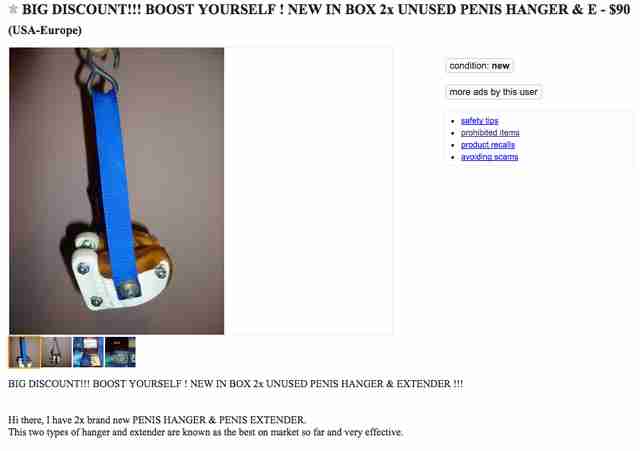 Price: $90
Location: Queens
If you're in the market for an unused penis hanger (or two) and won't settle for anything short of the "world strongest," then look no further. The hangers -- and yes, the seller is offering two -- appear to involve straps, some sort of harness, "medical steel," "hanging weights," and presumably, your penis. There was also something about stretching and extending, but we blacked out from pure terror before fully comprehending the description.
 
Price: $1,200
Location: Manhattan
Either this is a great attraction for your next drunken office party, or it's the world's most awesome fort for your living room. Measuring 8ft tall and 8ft across, apparently it's easy to install and inflate, and you can set up the LED lights to display 16 different colors to flash, strobe, or fade. The description makes this thing sound like it's as easy to setup as an inflatable bed. It's like a freaking RAINBOW FORTRESS!!!
 
Price: $28
Location: Long Island (duh)
Here's what the listing says, verbatim: "Create the most intimate Candy Bar around! Make a delicious GOURMET Chocolate copy of the outer portion of your favorite vagina! Delicious, Sexy FUN!"
Price: $55,700 (totally reasonable)
Location: Manhattan
If you look closely at the photos in the listing, you'll notice that the statue is standing on what appears to be a depiction of his grave, so this is not the most cheerful commemoration of Michael Jackson, but this definitely still belongs in your home. Apparently, it lights up, plays music -- probably "Thriller" -- and comes with a Certificate of Authenticity.
 
Price: $200
Location: Central New Jersey
We're just going to let this item's description do the talking, and despite the interesting wording, pray this is just a typo: "Off-white color. Sofa cushions are very plush with no signs of wear. Cushion covers have some stains but are removable and washable." Hmm...
 
Price: Best offer
Location: Manhattan
Here's what the listing says, verbatim: "I have a huge lot of vintage marionettes for sale more than 15 yrs worth of collecting in mint condition in original boxes pelham, hazelle mostly. more than 200 of them great for a collector most are very hard to find. these are very valuable some as hi as 3000-5000 each. these date back to 1930s-50s. they are possibly haunted/possessed."
 
Price: $6,900
Location: West Islip, Long Island
Last week, we pointed out a sex toy with both female and male parts to play with, but this week, we found a sex toy that's apparently supposed to be like a life-size person. Aptly(?!?) priced at $6,900, this "brand new" and "official" RealDoll 2 was simply purchased for a magazine photo shoot and was apparently "never used for its intended use." Uh huh. Along with supposedly being life-like, incredibly adjustable and structurally sound, the doll has 7 inch deep removable mouth inserts, removable vagina inserts for ease of cleaning, and a deep anal opening. Oh, and there's also a removable vagina hair strip, because why the hell not?!?!?
 
Price: $50
Location: Jersey Shore
Just in time for your House of Cards marathon this weekend, here's a toilet you can roll up to your couch so that you don't miss a single moment in the day to watch the new episodes. Because why wouldn't anyone do that if they're already eschewing hygienic things like showering or changing their underwear anyway? According to the listing, this portable throne is sturdy, adjustable, has a back rest, arm rests, and a splash guard for your particularly presidential poops, or as we now call them, Underwoods. 
Tony Merevick is Cities News Editor at Thrillist and has never been able to successfully sell anything on Craigslist. Follow him on Twitter @tonymerevick.