The 11 Most WTF Things We Found on NY Craigslist This Week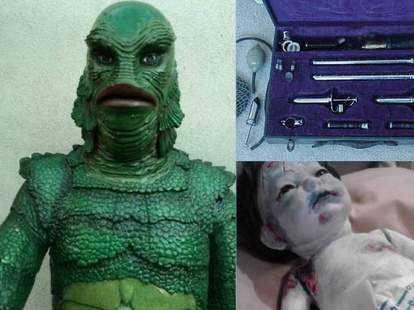 Just like water is wet and gravity makes apples, it's also incontrovertible that if you spend time on Craigslist, someone will try to sell you something really scary. Or a lot of things -- like some vintage rectal examination equipment or boxes full of sex toy shop inventory. This week, we poked around for sale listings in the greater NYC area and, basically, the world is a terrifying place.
Note: a lot of these are really NSFW.
1. Hermaphrodite Sex Doll for sale - $175 (Patchogue Village) 
This sex toy (or perhaps a decorative towel hook!) apparently features a 9in dildo, "a tight vagina," and giant breasts all made out of a "realistic skin"-feeling material. It doesn't have a head, but it does have the original packaging. The listing doesn't note whether it's used. Only one way to find out! 
2. Fake ID'S Availble - $250 (New York) 
That's right, fake IDs for sale on Craigslist -- and this is one of many of them. Here's what the seller has to say: "Looking for a fake ID? Too hide or secure your identity ? Too get into clubs ?" Apparently they come in a wide variety from eight different states. I'm 24 and I'm thinking about it just for fun. 
3. Living Dead Newborn *Creepy Cool* - $100 
Here's an allegedly "One of a Kind!!!" porcelain doll of a zombie baby. It's hand painted with "Realistic....Creepy....Amazing detail," according to the seller. Way cooler than that tramp Molly McIntyre. 
 
4. Lifesize Creature From The Black Lagoon - Rare - $7500 (USA) 
This sculpture, measuring 6ft 5in and weighing about 100lbs, is apparently a life-size replica of the creature from The Black Lagoon, which the seller claims was, "professionally painted by the Warner Bros Studio", making the $7,500 quite reasonable indeed. 
5. Men's Sexy Underwear Business for Sale - $60000 (Midtown) 
Want to own your own sexy men's underwear company? Or maybe you want all 10,000 pieces of sexy men's underwear FOR YOURSELF?!? According to the seller, it's the business to be in: "It is good for looking-forward e-commerce business, or those in the industry is looking to expand their business scope. Interested, please reply to this ads!" Just $60k, guys. Can't miss.
6. Dirty wet used panties - $35 
Not really sure how they keep them wet...
7. Bizarre Antique Medical Proctological Examination Set Vintage Rectum (Brooklyn) 
Let's just let the seller describe this item: "This appears to be some sort of predecessor of a rectal endoscope or some other proctological examination device from nearly a century ago. The lighting mechanism seems to consist of a plug to outlet adapter, which screws into the Patented Cameron's Vitrohm Potential Adjuster, which I believe is made of Bakelite. Into this screws the thin, flexible power line that plugs into one of the three mini lamp handles that lock into one of the various stainless devices. Back in the day, this enabled a doctor to shine a light where the sun don't shine!"  
8. Tarantula Chaco Golden Knee - $50 (New Dorp, Staten Island) 
Someone on Staten Island has a tarantula "up for adoption." For money! Apparently, it's a pretty tame, giant, harry spider and "not aggressive." 
9. U$ED CONDOMS? (NYC) (All Boroughs) 
Some normal person is looking to purchase your used condoms. What do you mean you've been throwing those things out within seconds??
10. Perfect filler inventory for store 
This isn't "filler" for just any store. Photos of the merchandise show sex toy shop products like lube and various vibrating devices. "Cal Exotics, Pipedream, Doc Johnson, Nookie, Spartacus, Lelo, Fleshlight, etc...."
11. Snake Lavender California King Snake (Captive Bred) - $60 (brooklyn) 
It's a baby -- but is already 8in to 12in in length, according to the seller, who notes the little urban reptile was bred in captivity. Which might also happen to your children with the other human in the cage once this guy gets you in his basement. 
Tony Merevick is Cities News Editor at Thrillist and once tried to sell his old guitar on Craigslist, but was unsuccessful. Follow him on Twitter @tonymerevick.