Editor's Note: Want to see more bizarre, hilarious, inappropriate, amusing, and possibly useful stuff we've found on Craigslist? Check out last week's roundup (stripper pole edition), and if you're feeling really adventurous, the selection from two weeks ago, featuring a mini stallion and, errm, smelly socks. Enjoy!
Craigslist is undoubtedly one of the best places to get rid of your old stuff, make some extra cash, and apparently, unload the freaky stuff lying around your apartment. In our search for the strangest, most amusing things people are trying get you to pay them real money for, we've come across things like penis hangers and even a vintage rectal examination equipment set. We wandered through the for sale listings around the NYC area again this week, and this is what we found: 
Note: some of these are really NSFW.
Price: $2,200
Location: Jersey Shore
Got loads of time on your hands? If so, this listing is perfect for you. In addition to 193 porn DVDs, this assload of porn store merchandise includes immensely practical items for your home, like 23 packages of Horney Honey Sexy Time Wipes, two Vibrating Doggie Style Straps, one Ultra Tech 3000 Vibrator, two vibrating Anal Pleasure Beads, two Door Jam Sex Slings, one "Bedroom Bondage Kit," one Penetration Station, and dozens of other toys, straps, harnesses, lubes, and magazines. For $2,200 or best offer, you'll never be bored ... or seen or heard from again. 
Recommended Video
Please Don't Hang Up: The Best BBQ & Barcade in Dog-Friendly Kansas City
Price: $1,000
Location: Long Island
Hands down, Annabelle is a must-have addition to your creepy, demonic, might-murder-you-in-your-sleep doll collection. You may know her from big-time rolls in hit horror films like "The Conjuring" and "Annabelle," according to the seller. And for 1,000 bucks, how could you possibly go wrong? Oh, yeah, maybe finding her propped up in a creepy rocking chair and watching her head spin and LOOK AT YOU RIGHT IN THE EYES!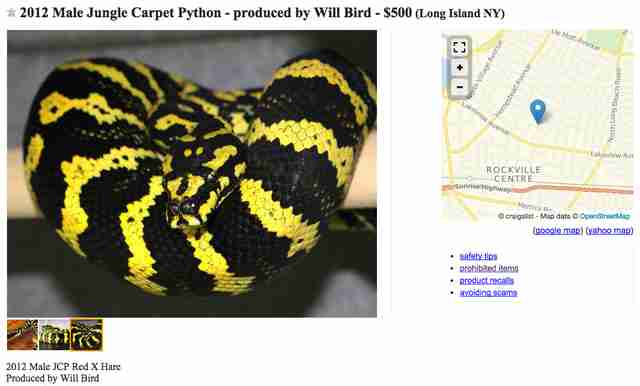 Price: $500
Location: Long Island
If you're in the market for a huge, terrifying snake, look no further! This 5ft long jungle carpet python that was actually born in the wild -- where big snakes are supposed to live -- and has been living in somebody's house on Long Island. Oh, and this particular python is "producing sperm plugs and ready to breed," according to the seller, who is apparently "male heavy." Does that mean this person's got more than one of these things???!
Price: $50
Location: Manhattan
For a whole 50 bucks, you can get your hands on dirty things that were on someone's feet. The seller makes a pretty goddam tantalizing offer: "Do you have a foot fetish? I have size 5 feet and want to sell my dirty socks to you." While the seller doesn't note this, you can probably expect them to be stinky.
Price: $75
Location: Brooklyn
Yo! Check out this chill-ass alien statue, man! While we don't know exactly what planet or galaxy this guy is from, he looks like he's probably the most down-to-earth extraterrestrial we've ever seen, what with his beanie, stylish satchel, and whatever it is that he's kicking back and smoking. Let's just hope he shares. 
Price: $90
Location: Brooklyn
Unlike a lot of the dildos available on Craigslist, this particular variety, or the Semenette, can actually ejaculate -- oh, and it hasn't been used, which is a HUGE plus. The seller is knocking off $100 from what they paid for it, but insists it's "a really great product!" and that it's "pretty amazing" when you fill it with lube to simulate ejaculate. Unfortunately, it looks like safety goggles are not included.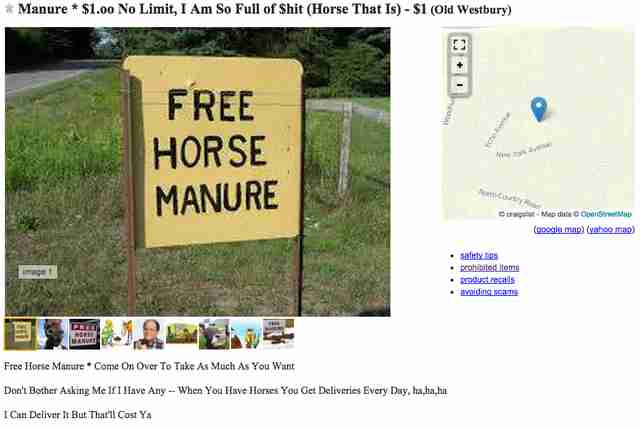 Price: Free
Location: Long Island
This seller is so full of shit -- horse shit, that is -- that they're giving it away for FREE! You'll likely never know that you need an endless supply of horse manure until that moment when you do, but this person's got the hook up. In fact, they said, "Don't Bother Asking Me If I Have Any -- When You Have Horses You Get Deliveries Every Day, ha,ha,ha." Get out! No way! No shit!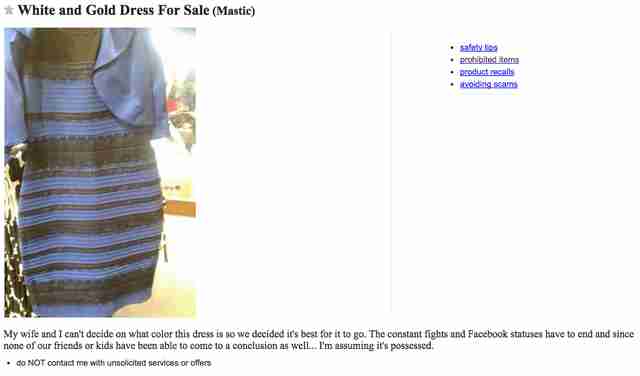 Price: n/a
Location: Long Island
Listen folks, we've never seen a dress like this before. Like ever. But as the listing's photo shows, this never-before-seen dress is clearly white and gold, and doesn't look like it's blue and black at all. For some reason, the seller said the dress is causing tension among their family and friends, and said, "I'm assuming it's possessed." Maybe if the entire world never sees the dress, we'll all survive? 
It's blue and black. Period. 
Tony Merevick is Cities News Editor at Thrillist and wishes he had a massive expense account just for Craigslist shopping. Send news tips to him at tony@thrillist.com and follow him on Twitter @tonymerevick.