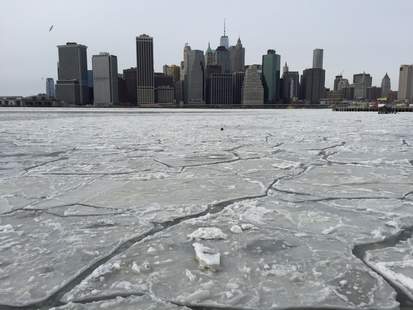 Report: The East River Is A Hellishly Beautiful Ice Floe
Report: The East River Is A Hellishly Beautiful Ice Floe
Because I wanted to remember what it was like to feel something (anything), I went for a jog through Brooklyn Bridge Park yesterday, just a few hours after thermometers in Central Park registered a 3°F reading -- the coldest temperature NYC has seen since 2004. Last month, when I hiked from Fort Greene to Soho in the "blizzard," I was blown away by the park's winter beauty. I figured I'd swing by for another look.
When I got down to the waterfront, I discovered that the East River was frozen over with massive Arctic icebergs. Whoa. Obviously, I took some photos -- check 'em out below.
DAVE INFANTE/THRILLIST
Inches-thick plates comprise the floe, which spans from the mouth of the river up to the Manhattan Bridge (and probably much farther, though I got too cold to confirm.)
As the drift ice hits the shoreline, it fractures into some really stunning shapes.
At other points, collisions between bergs reduce the large plates to a finer ice slurry, which flows rapidly downriver.
This makes for some truly surreal vistas, like this one shot from the bottom of Pier 1.
And this one of the the Baylander, a retired US Navy vessel that saw action in Vietnam. By most accounts, there was less ice there.
As far as I could tell, the floe -- which hugs the 50 yards of the river closest to the bank, but doesn't span its entire width -- breaks up well before the harbor. I saw the Staten Island ferry and several NJ-bound vessels running as normal, so I assume it's open water out there.
Some of the inlets along Brooklyn Bridge Park are warmer than others. This one, by the old pilings, had the combination of mixed ice & dark water you usually associate with remote winter outposts, not the biggest city in the country.
Others are frozen solid, like this one. No water can be seen through this frozen coat of armor.
If you've got the gumption (and the insulation), I highly encourage you to go explore down by the East River. It's a breathtaking experience, and not just because the air is too cold for your lungs. Be safe out there, New York.
Dave Infante is a senior writer for Thrillist Food & Drink, and has never seen anything like this. Which is cool. Follow @dinfontay on Twitter, Instagram, and Snapchat.