With the horrific summer moving season basically upon us, real estate listing site Zumper has released a fresh batch of maps showing the absurd piles of cash you'll have to fork over for an apartment in several neighborhoods across NYC. Spoiler alert: no area is safe.
The maps show the median rent prices for a 1-bedroom apartment in 64 neighborhoods throughout Manhattan, Brooklyn, and a few parts of Queens and The Bronx based on data from tens of thousands of Zumper listings so far this spring. Although Zumper notes that prices slightly decreased this month, New York is one of the most expensive cities for renters in the US with the overall media price for a 1-bedroom apartment at $3,290 per month -- second only to San Francisco ($3,560). Frankly, we're fine with being second to SF in this one category.
Although its bizarrely not included on the map, Zumper explains the small slice of Midtown known as NoMad is currently the most expensive neighborhood in the city with a median monthly rent of $4,500. But the maps do illustrate the stupid amounts of money people pay to live in some of NYC's most coveted 'hoods, such as Tribeca ($4,400), Greenwich Village ($4,100), and Battery Park City ($4,020) in Manhattan and DUMBO ($3,925), Vinegar Hill ($3,750), and Williamsburg ($3,150) in Brooklyn. Dreaming, however, is free.
Basically, if you're looking for a relative bargain, check out Washington Heights ($1,800), areas of Harlem (around $2,200), and the Upper East Side ($2,740), according to Zumper. As for Brooklyn, the maps suggest you might find something that's somewhat affordable in most neighborhoods outside of the Downtown Brooklyn area and Williamsburg. Oh, and you can always move up to The Bronx if you're looking for a "deal." Or you can just squeeze into a place with a bunch of roommates like the rest of us. Sigh.
Check out the full maps right here: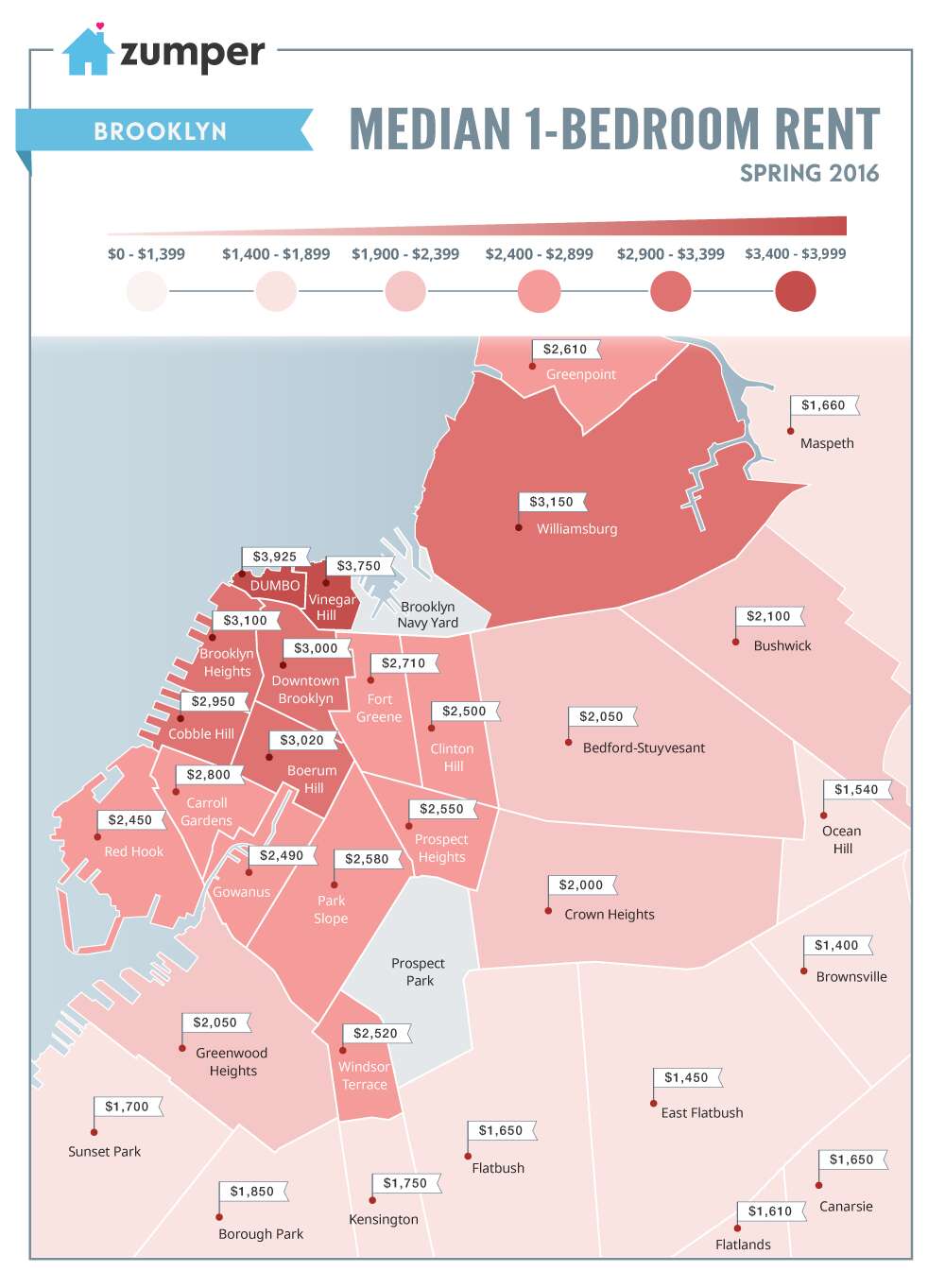 Sign up here for our daily Thrillist email, and get your fix of the best in food/drink/fun.
Tony Merevick is Cities News Editor at Thrillist and is both happy and terrified to see that his rent is below the average in his neighborhood. Send news tips to news@thrillist.com and follow him on Twitter @tonymerevick.