These Maps Show Where NYC Rents Skyrocketed This Year
If you listen hard enough, you can almost hear the damn rent prices soaring to stupid new heights all across NYC -- that is, if you can hear anything over the sounds of your neighbors having sex. Unless you're clinging to one of the remaining rent-stabilized units in the city, rent prices this year have probably left you struggling to finance your Chinese food and fried chicken sandwich addictions. In fact, New Yorkers are shelling out an average of 8% more for rent in 2015 than they did last year, according to new end-of-the-year data from listings site Zumper.
As illustrated in a map of Manhattan from the site (shown below), the median price for a 1-bedroom apartment went up in all but two neighborhoods in the borough this year, with the double-digit increases in areas like Battery Park City (up 16.3%), Gramercy Park (up 15%), and Soho (up 10.7%). But the stupidly high rates didn't stop there, considering prices went up almost 10% in several neighborhoods, such as the Upper West Side, FiDi, and Greenwich Village.
But, somehow, rent prices actually went down ever so slightly in just two neighborhoods, East Harlem (down 6.3% to $1,900) and West Harlem (down 0.2% to $2,000), according to the Zumper report. Manhattan is Manhattan, right?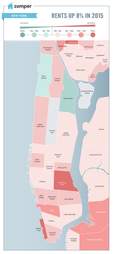 Courtesy of Zumper
Meanwhile, the picture (below) in Brooklyn isn't as horrific as Manhattan, but it's certainly not pretty. In fact, a handful of neighborhoods saw significant and rapid price surges, such as Borough Park (up 18.5%), Crown Heights (up 17.8%), and Sunset Park (up 17.6%).
On the bright side (if you'd like to be optimistic for a second), some neighborhoods saw prices modestly depreciate; for example, rates in areas like East Flatbush and Brownsville decreased by 5-10%. But rents went down the most in Cobble Hill this year, dropping 11%, per the report.
Welp, who's looking forward to 2016?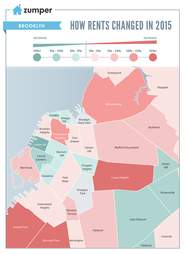 Courtesy of Zumper
Sign up here for our daily Thrillist email, and get your fix of the best in food/drink/fun.
Tony Merevick is Cities News Editor at Thrillist and is not looking forward to what 2016 holds, as far as rent is concerned. Send news tips to news@thrillist.com and follow him on Twitter @tonymerevick.