They're Finally Tearing Down That Shithole LaGuardia
It's official: the East River dump known as New York's LaGuardia Airport cannot be saved.
The crumbling excuse for an airport is so outdated and dysfunctional that on Monday, Gov. Andrew Cuomo revealed a plan to demolish and replace LaGuardia with a new, better airport -- and hopefully one with a roof that doesn't leak. Joined by Vice President Joe Biden, who famously compared LaGuardia to a "third world country," Cuomo detailed the multibillion-dollar overhaul that will include a unified terminal, increased retail space, a "200-room boutique hotel," and better access via public transportation. So, you know, like an actual modern airport -- in NYC. Crazy.
"New York will have the newest major airport in the United States," Cuomo said, promising a LaGuardia with reduced flight delays and ground traffic congestion. "This is what New York deserves and has deserved for a long time, and now we're going to get it."
Courtesy of Gov. Cuomo's Office
Highlights from the plan include:
Ferry service to the airport's marine terminal.
Connection to the NYC subway system as well as the Long Island Railroad at the Mets-Willets Point Station.
Constructing the new terminal closer to Grand Central Parkway, which will provide almost two miles of new space for planes to taxi and improve the flow of traffic.
Terminal gates that will rise as a series of bridges high enough for planes to taxi below (and probably make for great airport selfies).
Additional space for TSA security checks.
A new hotel and expanded retail space -- so you won't be stuck with just Auntie Anne's or Au Bon Pain.
Pending approval from the Port Authority, work on the $4 billion first half of the shiny new LaGuardia will begin as early as next year and will be completed sometime in 2021. The second phase will be redeveloped by Delta Air Lines and could be completed along a similar time frame under the plan. In other words, it's now possible that in your lifetime, there will be a New York Airport that is not terrible.
Maybe.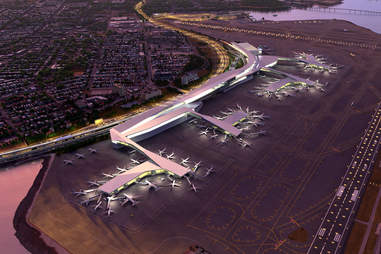 Courtesy of Gov. Cuomo's Office
But don't worry, masochists — LGA will remain open during the construction. So next time you're delayed at good ol' LaGuardia, rest assured someone's finally taking the wrecking ball to it -- probably 40 years too late, but better late than Newark.
In the meantime, you can watch a video (embedded below) and gawk at a bunch of renderings showing the gorgeous new airport that we've been begging for all along.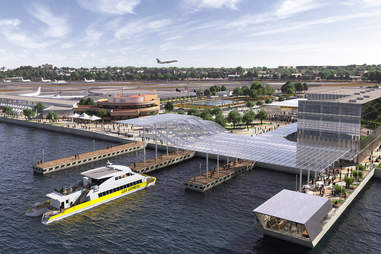 Courtesy of Gov. Cuomo's Office
Courtesy of Gov. Cuomo's Office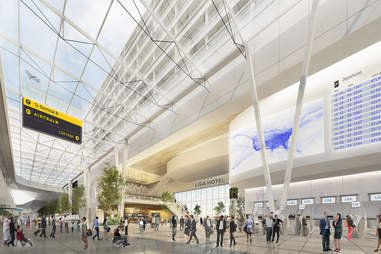 Courtesy of Gov. Cuomo's Office
Follow us on Facebook for a steady stream of daily NYC stories, and be the first to get all the food/drink/fun/news New York has to offer.
Tony Merevick is Cities News Editor at Thrillist and wonders if there will be state of the art TSA rat control systems. Send news tips to news@thrillist.com and follow him on Twitter @tonymerevick.