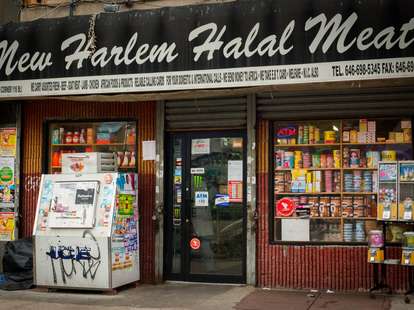 Courtesy of Gail Victoria Braddock Quagliata
Courtesy of Gail Victoria Braddock Quagliata
As New Yorkers, we have the privilege and luxury of being able to get our morning coffee at like a dozen different places in our neighborhood in large part thanks to one of the city's most beloved, gritty, and prevailing institutions, bodegas. They're everywhere, and many of them are beautiful symbols of NYC, past and present, which is a lot of what photographer Gail Victoria Braddock Quagliata said inspired her to set out on a quest to photograph every bodega she could find in Manhattan, ultimately totaling over 1,900.
"The bodega is a microcosm," she said. "There's such a variety of things that reflect the variety of the city's people and interests and cultures that you can find all in this one store, open 24 hours a day. At bodegas, somebody actually knows you -- or how you take your coffee -- in a city where you can be really anonymous. The bodega is the cornerstone that makes neighborhoods tangible."
Dozens of photos from the project, a handful of which you can see below, will be on display for Atlas Obscura at ACME Studio (63 North 3rd Street) in Brooklyn Wednesday night, where Quagliata plans to give a presentation about her 9-month journey to visit and capture every bodega and the stories she picked up along the way.
One of the most memorable moments from the project is when she visited a bodega in the East Village near 9th St and First Ave.
"I was standing outside to shoot for quite a while, waiting for some kids to clear the way and a man came out of the store, and asked me what I was doing there," she said. "I told him, and he said, 'You want to take a picture of my store?' He was so excited that he went and got his mom and a friend and they sat on a bench for the photo, and it's the only photo I have [from the project] with someone else in it."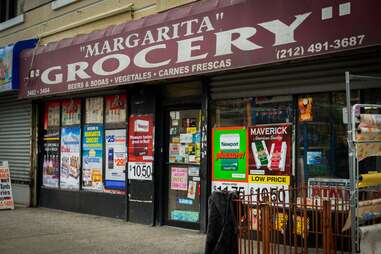 While a lot of her time was spent looking for coffee and restrooms, Quagliata said she occasionally veered from the streets and made several discoveries about the city, where she's lived now for over 10 years -- like a tiny "beach" on the Hudson near the Inwood neighborhood.
"I was standing next to the Hudson River and there was sea glass everywhere," she said. "It was a very beautiful beach and was like the size of a nice apartment bathroom, like a one-person beach."
Quagliata said she photographed the bodegas regardless of their condition or whether they were open for business or not. She also acknowledged that some might technically be considered delis or corner stores or various similar iterations of a bodega.
She's still in contact with owners of some of the stores, a few of whom asked her to come back and take the photos after their new awnings were installed, for example.
As for the neighborhood where she encountered the most bodegas? At first Quagliata would have said Alphabet City, but after traversing the rest of Manhattan, she said it's Harlem, by far.
"Harlem is choked not only with bodegas, but bodegas with beautiful signage," she said. "If you want to see a hand-painted sign, go to Harlem."
Ultimately, her adventure to capture such an integral piece of New York was sort of like a "corny love letter" to the city, but it also changed the way she views it, she said.
"It made the island kind of tiny to me," she said. "It feels very small. Now it's part of me."
Quagliata encourages people to get out of their everyday neighborhoods and see what the rest of Manhattan has to offer:
"My advice? Go to the end of the subway and start walking and see what you find."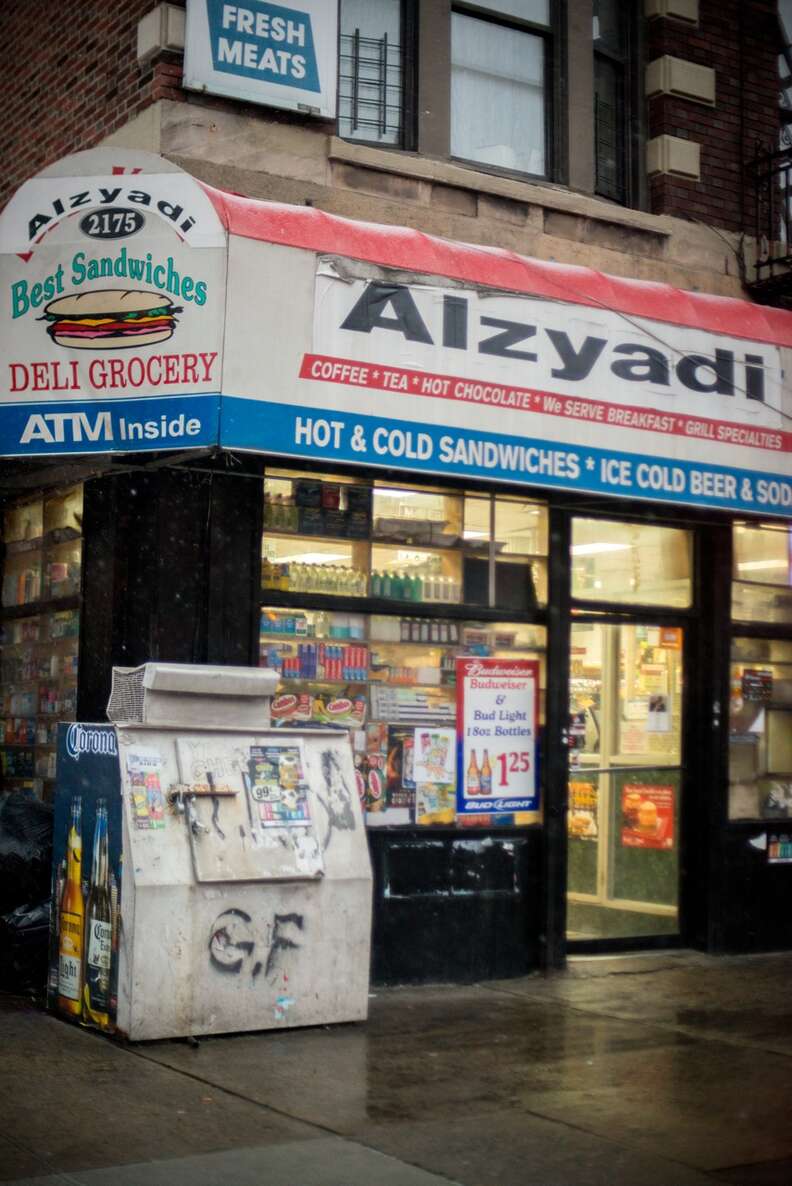 Follow us on Facebook for a steady stream of daily NYC stories, and be the first to get all the food/drink/fun/news New York has to offer.
Tony Merevick is Cities News Editor at Thrillist and wishes he could take an adventure like this someday. Send news tips to tony@thrillist.com and follow him on Twitter @tonymerevick.