Imagine not having to worry about hoards of tourists with selfie sticks, anti-Semitic Elmos, or even leaving your own apartment building to get some fresh air at a park. That could be the future thanks to this super-skinny residential skyscraper proposed to rise above Manhattan that will have freaking parks built into it on several levels.
Currently in design, the 65-story, 700ft tall tower will have five "clusters" of shared park space for residents at intervals throughout the building, which NEF, a Turkish developer, wants to build on East 37th Street in Midtown, according to Perkins+Will, the architecture and design firm behind the concept. 
Recommended Video
Please Don't Hang Up: The Best BBQ & Barcade in Dog-Friendly Kansas City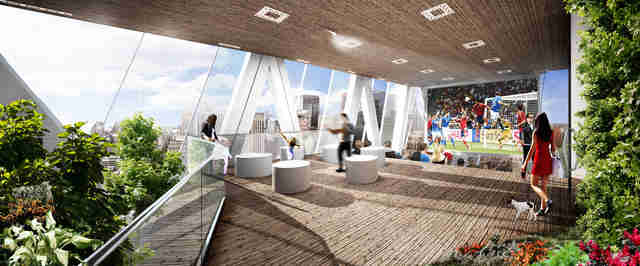 But just when you thought that high-rise, residents-only parks were incredible enough to be stricken with envy, there's more.
Whereas most New Yorkers are lucky to have mere laundry machines in the building (or within blocks of it), the tower will feature a bunch of crazy-awesome amenities like an art room, an exterior jacuzzi, event rooms, a private yoga studio, a chef's table, a fitness room, terraced gardens, an outdoor cinema, an observatory, and a rooftop infinity pool with a terrace garden, according to the plans.
The building, which is set to be completed by 2017, will include 65 apartment units ranging from 400sqft studios to 1,800sqft "floor-throughs," according to a report by Bloomberg Businessweek. 
The architecture firm first unveiled the design earlier this month after it received a major international design honor --  the MIPIM Architectural Review Future Projects Award in the Tall Buildings category. You'll probably never live in it, but you have to admit, it's pretty damn gorgeous. 
Tony Merevick is Cities News Editor at Thrillist and wonders if these parks will have hot dog carts. Send news tips to him at tony@thrillist.com and follow him on Twitter @tonymerevick.