Starting today, Tom Colicchio's Craft will switch its lunch service to a no-tip system, Eater reports. This makes the Top Chef head honcho's NYC flagship the latest establishment to join the growing ranks of US restaurants that have elected an alternative pay structure to our country's confounding gratuity system.
"It's time for a change. It's time to pay the servers a salary," Colicchio told Eater, indicating that if the experiment was a success during lower-stakes lunch hours, he'll try to implement the same change for dinner service by the end of 2015. (If lunch customers want to leave additional gratuity, they're welcome to do so in cash, but the credit card receipts will have no tip line.)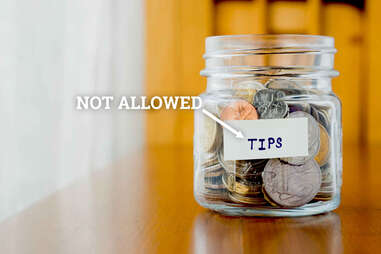 Craft is hardly the first US restaurant to realize that America's conventional gratuity guidelines -- in which customers arbitrarily decide on the majority of a server's compensation, the back-of-house gets shafted, and management avoids the financial overhead that virtually every other business deals with with -- is bullshit. With inclusive pricing, the restaurant can set steady salaries (usually based on seniority) that protect servers' income against stingy customers and slow days.
The menu will reflect slightly higher pricing a la carte, but Colicchio is hoping that customers won't balk at the pricing. "We're in a moment in time where it's easier to change that behavior. When you look at Uber, people like the idea of not having to leave a tip," he speculated to Eater. The restaurant has never offered lunch before, so it shouldn't feel like a price hike.
Collichio's decision is happy and humane, but it's also good business. The state of New York, like many others, is in the process of revising its minimum wage policies, and by the end of 2015, restaurants will be legally required to pay tipped workers (waiters & waitresses) $7.50 an hour, instead of the previous $2.50 rate. All NYC restaurants, gratuity or not, will be forced to find more money to cover the gap. Craft is just preempting the inevitable by trying out a more equitable system now, rather than scrambling for one later.
Dave Infante is a senior writer for Thrillist, and always brings singles to open bars. Follow @dinfontay on Twitter, Instagram, and Facebook.