TSA Screener Allegedly Stole A Passenger's $7k Watch, Then Smashed It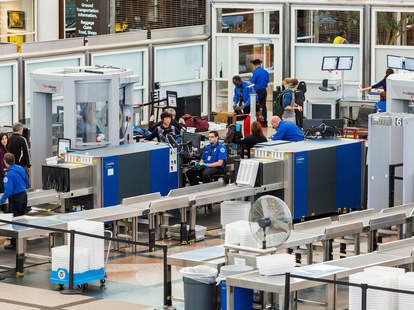 <a href="http://www.shutterstock.com/gallery-1059122p1.html?cr=00&amp;pl=edit-00">Arina P Habich</a> / <a href="http://www.shutterstock.com/editorial?cr=00&amp;pl=edit-00">Shutterstock.com</a>
We all know being herded through airport security is no fun, but imagine discovering that your prized luxury watch was stolen and smashed to pieces in the process.
That's what reportedly happened to a Canadian man who traveled through New York's JFK airport late last month. Authorities said a TSA screener lifted the pricey timepiece, a $7,000 Diamond Master, while the man passed through security, according to a report by the New York Post.
Margo Grant-Lauree, 41, was arrested Wednesday and charged with grand larceny and official misconduct for allegedly stealing the watch, according to a press release from the office of the Queens County District Attorney Richard A. Brown. Surveillance footage allegedly shows Grant-Lauree remove the watch from a plastic bin at the checkpoint and then walk away. Later, when she noticed her co-workers searching for the watch, Grant-Louree "became nervous" and destroyed the watch, which was covered with diamonds, according to the release.
"The defendant was supposed to be screening passengers to ensure the safety of the flying public, but on this particular day this employee allegedly removed a very expensive watch from a plastic bin and kept it for herself," Brown said in a statement. "This kind of thievery will not be tolerated at our airports."
Note to self: don't leave an insanely expensive watch in the plastic bins. Oh wait, what expensive watch?
Sign up here for our daily Thrillist email, and get your fix of the best in food/drink/fun.
Tony Merevick is Cities News Editor at Thrillist and wishes flying weren't so awful. Send news tips to news@thrillist.com and follow him on Twitter @tonymerevick.