A Huge, Art Deco-Inspired Whole Foods Just Opened in NYC's Financial District
The store is located in One Wall Street.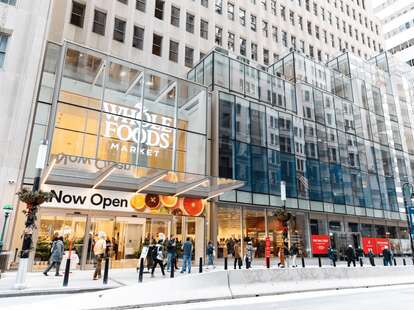 Photo courtesy of Whole Foods
A new Whole Foods just opened in FiDi, and its design already caught the eye of art enthusiasts.
Last week, the new location of the famous grocery store chain welcomed the first customers into its sprawling 42,00-square-foot space. Located in One Wall Street at 66 Broadway, the newest Whole Foods store features iconic design traits that pay homage both to the Art Deco history of the building and to FiDi and Wall Street. Inside, visitors can find parts of old elevator doors decorating the walls, and there is even a vintage mailbox by the escalator.
In terms of groceries and food selection, shoppers will have more than 1,000 handpicked local items from NYC and the surrounding area to choose from. A special department dedicated to cheesemakers and artisan producers will be available as well, and customers will be able to order from full-service counters including seafood and meat.
Among the many highlights the new store offers is a full service coffee bar. Here, customers will be able to taste local brands of coffee for the first time ever at Whole Foods, and Brooklyn-based Partners Coffee will be providing the beans for espressos, lattes, and seasonal drinks.
The newest Whole Foods joins other new locations in the city, including one in NoMad that opened last year. Grocery fans are also eagerly awaiting the expansion of Wegmans into Manhattan later this year.
The store is now open from 8 am–10 pm every day. Take a look at some photos of the space below: