In 2014, Bicycling Magazinenamed New York the country's best city for biking. It makes a lot of sense. That year, 3,982 bikers were injured on the streets, and 20 were killed -- almost double 2013, when a mere dozen died. Without a protected bike lane network, riders are still in the streets, elbow-to-bumper with cars that can crush them at the slightest slip of the steering wheel. Socially, cyclists remain the scourge of New York, hated by pedestrians and drivers alike, even as NYPD crackdowns have racked up bike tickets in record numbers.
What an accomplishment.
Regardless of its award-winning resume, America's "best cycling city" is still covered in the blood, tears, and frustrations of its cyclists. If you ride a bike here -- even if it's just a Citi Bike to work, even if you wear a helmet, even if you don't consider yourself "a biker" -- that blood could all too easily be yours. Or mine. As a cyclist here myself, I set out to discover why NYC has so much trouble becoming a true biker's paradise, rather than one that just looks good on paper. Here's what I found.

The system was old and broken
Like most American roads, New York City's weren't designed to be shared. They were designed for cars. So you'd better believe that riding in New York City used to suck more. There were fewer bike lanes, fewer cyclists, and more fatalities. Anything would have been an improvement, and to their credit, a bunch of agencies, commissioners, and advocacy groups did a lot over the past couple decades to make the city less deadly for cyclists (and pedestrians!).
From 2007, when former Mayor Bloomberg appointed Janette Sadik-Khan as his transportation commissioner, to 2014 when he exited the office, the city built 366 miles of bike lanes. (Total mileage these days is around 500; here's a handy map of it all.) In the midst of the city's generational decrease in car ownership, Mayor de Blasio has adopted a Swedish street-safety program called Vision Zero, and Polly Trottenberg's DOT has been adding around 50 miles of new bike lanes a year. The number of cyclists in NYC more than doubled between 2005 and 2010, and will triple again by 2017.
And Citi Bike! Despite its occasional missteps, the program has granted New Yorkers access to 6,000 bikes in its 2.5-year run. If you haven't used the ubiquitous bikes, you've at least seen 'em in Manhattan. Now, new stations are being installed in the transit-scarce outer boroughs, meaning more New Yorkers are about to get rolling. So, yeah -- it used to be a lot worse, and it is getting better.
And yet, people are still scared to ride bikes in NYC. I can't quantify the apprehension. (No such statistic exists for NYC, but nationally, around half of adults want to bike more, and 46% of that group said that better bike lanes would be a deciding factor.) Still I know it's true. I hear the anxiety whenever someone -- a coworker, a friend, a tourist -- discovers I ride a bike here. Aren't you afraid? I could never do that. Isn't it dangerous?
"Imagine giving kids badminton racquets and asking them to play football against the Patriots."
Most of the time, I'm not scared. I'm used to the risks. But that's the problem. Despite all those impressive safety improvements the city touts, our roads, drivers, and collective attitudes were all so car-centric for so long, that riding a bike still puts you at risk. We've got a ways to go.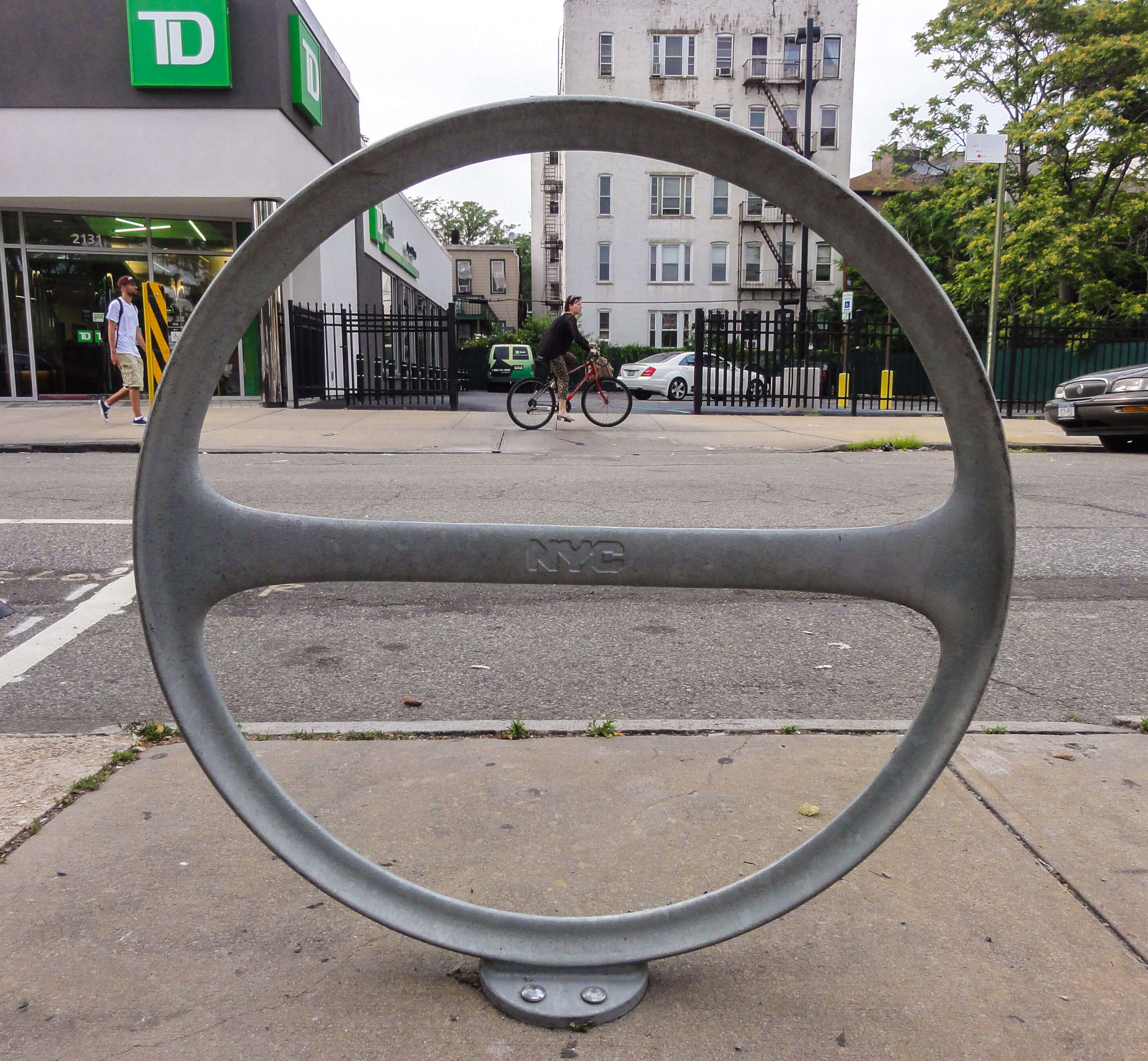 You'll have your "holy shit" moments
"I've been hit head-on and T-boned before," recounted JP Bevins, a 31-year-old cyclist living in Brooklyn. He's ridden in NYC and other cities for 16 years, and marks the Five Boroughs as neither the best, nor the worst. "[P]eople making aggressively fast illegal U-turns right into me, getting doored, or people passing full speed just to [...] cut you off for a turn" are examples of what he gamely refers to as "real" NYC accidents.
I call these "holy shit" stories, and no matter who you are, you'll earn a few of your own riding in NYC. "I think NYC is one of the least safe cities I've lived and biked in," Katherine Salamone, 28, told me in a recent email exchange. A Queens resident who's been riding for three years and calls herself "savvy" on a bike, Salamone has never been in an accident, though she's had a few close calls. She says she never leaves the house without proper lights or rides outside available bike lanes, and always wears a helmet.
90% of on-street bike lanes are unprotected in NYC.
I do too, though the question of whether helmets actually make bikers safer is a subject of debate. Unfortunately, none of those precautions guarantee me, her, Bevins, or any other New York cyclist safe passage.
"[Improving road safety] isn't about individuals making choices about their behavior," Doug Gordon, founder of Brooklyn Spoke (a popular NYC bike advocacy blog), explained to me regarding Vision Zero. Helmets, lights, riding in painted bike lanes -- none of that can protect you from the "holy shit." It's just not enough.
"Imagine giving a group of kids some badminton racquets and a shuttlecock, then asking them to play football against the New England Patriots," joked Gordon. No bueno. Smart decisions about your bike won't keep you safe, because a cyclist's decisions are rarely the problem. Bikers bite the dust in New York because the system puts them in places where the "holy shit" is just waiting to happen.
So let's talk about the system. There are two parts -- the infrastructure we ride on, and the way the city governs that space.
Excellent bike lanes will tempt you...
"I wish every bike lane was like this one," said my girlfriend as we rode our bikes up the Hudson River Greenway last month. The path, built through the late '90s and early aughts on the strip of land dividing the West Side Highway from the Hudson River, is a glorious, well-paved, two-way thing that stretches from the Financial District all the way up to Washington Heights.
This is what the DOT calls a "protected" bike lane, because it's completely protected from auto traffic by Jersey barriers, a row of parked cars, or some sort of raised landscaping feature. These bike-specific thoroughfares are scattered throughout the city, and they're indisputably the best ride around. "Protected bike lanes, such as the ones on Sands St and Kent Ave in Brooklyn or 8th and 9th in Manhattan are better than anything you'll find in, say, Portland, Oregon," opined Gordon. (Suck it, Portland!)
Unsurprisingly, protected lanes are safe and encourage ridership. One study by the University of British Columbia found that this type of lane can reduce risk of injury up to 90%, and another found that 64% of people who want to ride but are currently afraid to, would ride more if protected lanes were more available.
... but they're few & far between
The other two categories of bike lanes put cyclists in the flow of traffic with cars, separated by a stripe of white paint on the pavement -- or nothing at all. These "lanes" -- which comprise around 90% of all on-street mileage in NYC, according to the DOT -- kinda suck. For one thing, even when they're wide open, you're still in danger.
Salamone, the cautious Queens cyclist, uses a "sharrow" (a term for painted arrows indicating to drivers that the road should be "shared") on Myrtle Ave. "There's technically a bike lane but it's really just the bike symbol painted on half of the car lane, so there isn't enough space for both a car and bike," she explained. "Once you get into the boroughs, there's less and less separation between the car [and] bike space[s], so the cars don't/can't respect bikers."
"If a cyclist is moving at a speed in excess of 10mph, then I don't think it's safe to travel in an [unprotected] bike lane because of the risk of a door opening," said Steve Vaccaro, a New York attorney whose practice works predominantly with cyclists injured in traffic. This sort of collision happens so frequently, cyclists refer to it in verb form: "I got doored." Ouch.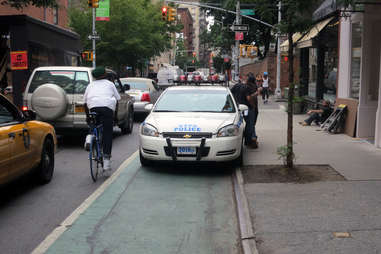 Drivers don't respect your space
Another downside? Drivers can use unprotected lanes as illegal parking and standing areas, because there's no physical barrier in the way of their vehicles. If you're on a bike, or even just walking, this puts you at risk. Instead of ticketing violators, though, cops often join in.
Cops in Bike Lanes is a popular Tumblr that documents this confoundingly popular police practice. Liam (not his real name; he preferred to remain anonymous so as not to cloud his blog's message) launched CIBL in 2013 after growing increasingly frustrated with what he called the media's "anti-bike rhetoric" leading up to Citi Bike's kick-off in May of that year. His followers now number around 3,800, and he's amassed 46 pages of photos and videos of NYPD equipment -- mostly squad cars, but also vans, fences, watchtowers, etc. -- blocking a supposedly inviolable space.
If it's not cop cars or civilian motorists blocking a lane, it could be nearly anything else -- dumpsters, road construction, flocks of Austrian tourists toting Hollister bags, et cetera. Unprotected lanes simply aren't effective at keeping cyclists out of harm's way, says Tom Angotti, a professor of urban affairs and planning and director of the Hunter College Center for Community Planning & Development.
"Bike lanes are new, and change is hard for communities."
"Most of the network is striped lanes, which are not safe enough," he wrote in an email to Thrillist, emphasizing that physically separated bike lanes were the key factor in improving the NYC bike infrastructure. "A [more] robust bike lane network is needed so cyclists feel safe on the streets," he explained. It makes sense: when cyclists feel safer, more of them ride, which makes streets even safer.
And, as it turns out, more commercially viable, as well. "It just increases the number of people that can get to your business," said Ted Wright, director for greenways at the NYC Department of Transportation, in a recent phone call. "Bicycle lanes make streets safer. Increasing access to commerce from both a bicycle and pedestrian perspective... that's simple math, you know?"
There's an intangible benefit, too, says Vaccaro. "By changing the space and creating space for people, you change their outlook."
Protected lanes make for safer streets, and safer streets make people happier. Yet out of the 50 miles of bike lanes the DOT aims to build every year, only a tenth are protected. Why?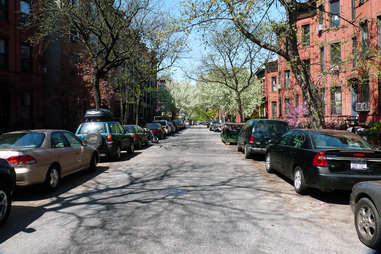 Community boards care about parking more than your safety
"Streets and sidewalks are 80% of our public space in New York City," said Caroline Samponaro, deputy director of the safe-streets nonprofit advocacy group Transportation Alternatives, in a phone interview with Thrillist. "That's crazy when you think about it. And most of that space has been turned over to cars."
Reengineering the city's 6,000 miles of roadways to be more equitable is the DOT's job, and it's a big one. "City streets are all a balancing act," Wright, the DOT greenway director, patiently told me in a phone interview. "You're trying to make everything work on this small curb-to-curb place." As noted earlier, the imbalance exists because the system was designed for motor vehicles, but it persists because it's beneficial to the very people who hold the power to change it: car owners.
The number of bike tickets has doubled each year since 2012.
See, protected bike lanes -- the ones that put a solid barrier between riders and traffic -- take up slightly more of the road than any other class of bike infrastructure. According to all sources I spoke with for this story, the amount is negligible: a few car lengths of parking are sacrificed for buffer spaces, "mixing zones," and concrete medians. Remember, their safety impact is anything but negligible. Protected bike lanes keep you safer. Period. They may even save your life. And yet, because protected lanes require a little more space, they're a tough sell to community boards.
"There's an entitlement to the status quo," speculated Samponaro about car owners. "The sentiment in the community boards where a lot of this plays out, is that [giving up parking] is the end of the world." In upper Manhattan and the outer boroughs -- where 19 of last year's 20 cycling fatalities occurred -- car owners tend to "predominate" community boards, said Angotti, and they frequently voice "tremendous opposition to bike lanes."
The DOT (which has to work closely with community boards) downplayed this. "I wouldn't say that parking is a huge thing that comes up," ventured Wright. "The fact is that bike lanes are new, and change is hard for communities."
Maybe so. But as a member Park Slope's CB6 transportation committee, Gordon has seen it go down firsthand, and disagreed with that assessment (though he allowed that the department "has to exist in a world of politics" that makes concise action difficult). He recounted one instance when an improvement plan was shut down because it might theoretically threaten parking spots in the future. "[It's] not just some sort of general aversion to change," he posited. "That is a very specific concern that draws a line in the sand: don't take our parking."
The NYPD will fine you (sometimes illegally)
One rainy day in 2011, filmmaker Casey Neistat was riding in lower Manhattan when he was pulled over and given a ticket for failing to ride in the bike lane, despite the fact that the lane was visibly obstructed. (So you know, this actually isn't against the law. Vaccaro told me -- and official literature & legislation confirm -- that it's well within a cyclist's right to depart from the bike lane in situations where it's impassable.)
Frustrated, Neistat paid his fine and made the YouTube video above, which went viral (14.5 million views and counting) in part because it taps into familiar friction between bikers and cops. Even though bike lanes are consistently unrideable, motor vehicles (not bikes) are by far the leading cause of traffic fatalities, and there are fewer bikes on the road than cars, the NYPD writes bikers more tickets than anyone else on the road.
"People feel like cyclists are entitled."
"I've [...] ridden a bike in almost every major city in the US with less traffic citations than riding here in New York," said Bevins. In his opinion, the NYPD officers he's encountered "aren't even educated on their own laws, and just blindly enforce whatever they're told to enforce for the week [...] It's a hypocritical system."
Hypocrisy or not, bikers really do get a lot of tickets. DNAinfo created this graph earlier this summer that demonstrates that even as NYC becomes a friendlier city for pedal pushers, the rate of ticketing has skyrocketed. DNAinfo reported how James Fanelli observed that "DMV data shows that the number of [bike] tickets issued each year has nearly doubled since 2012. That year 11,978 tickets were issued," while in 2014, bikers got snagged 21,302 times.
By contrast, last year the NYPD increased motor vehicle tickets for failure to yield and speeding (the two deadliest motor vehicle violations) by 126% and 42%, respectively, the New York Timesreported. Hey, that's great! Except the year before, enforcement on the same violations was down 31%. So it's not that New York's Finest aren't ticketing more cars than they used to be... they're just ticketing more bikers, more consistently, even though there are fewer of us than cars.
So again: why?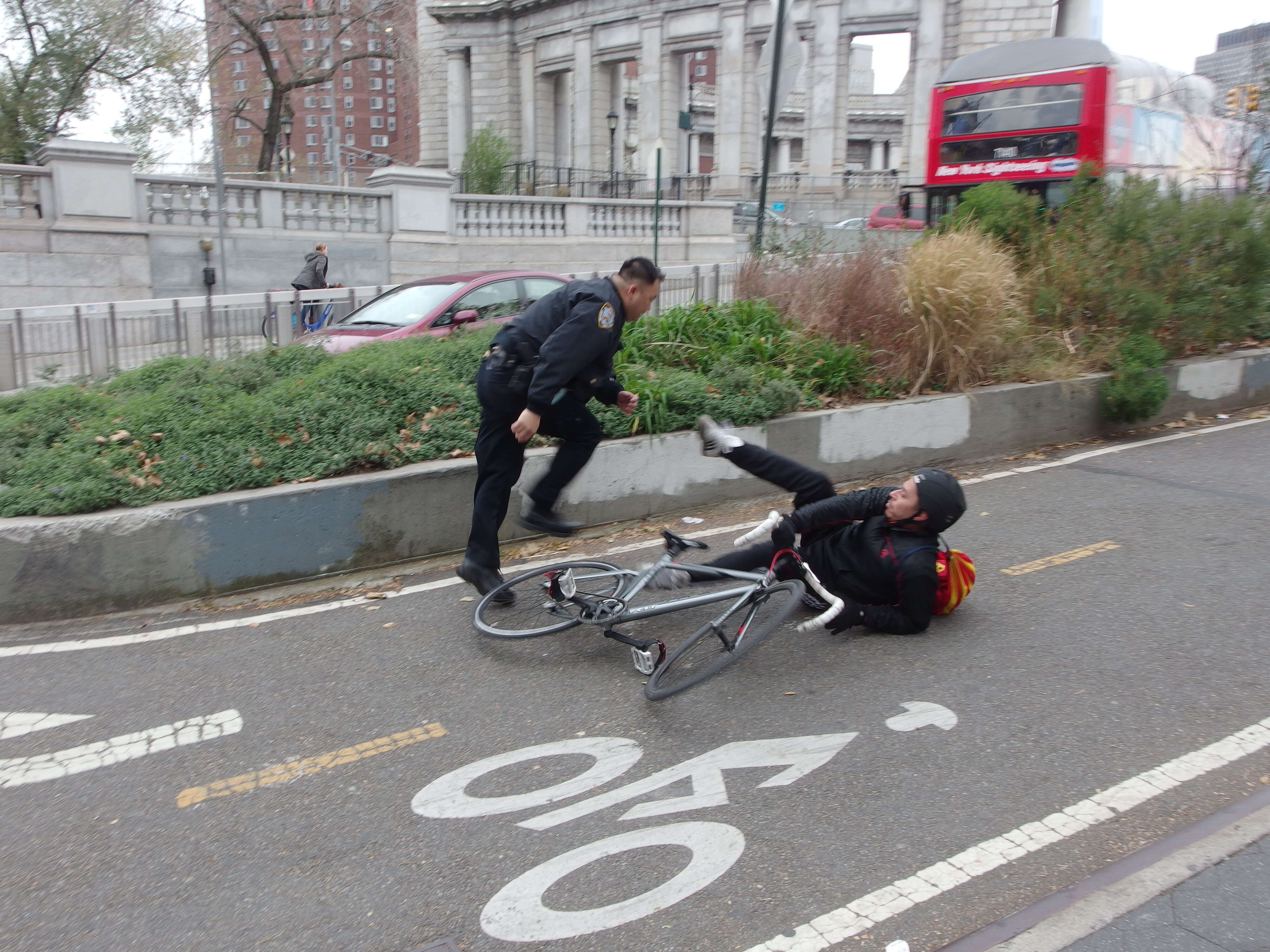 You're the easiest target on the road
"The most important thing... is that the NYPD is using data to dictate the types of enforcement they're doing" on cyclists, Samponaro told me. It doesn't seem like they are. One example, of many: November 2014, the NYPD's 5th Precinct tweeted that its officers would be enforcing bike violations as a result of a "115% increase" in neighborhood bike collisions.
Followers demanded an explanation of this statistic. Did they mean bike/car collisions? Bike/pedestrian? Were they counting instances in which their officers tackled bikers rolling through the red at the base of the Manhattan Bridge ramp?
Turns out, it was none of the above. I Quant NY, a popular data blog run by a Pratt city planning professor, crunched numbers from the city's Open Data Portal and found that for most scenarios, year-over-year collisions had actually decreased, and none had increased at that percentage. The 5th Precinct did not respond to multiple voicemails left by Thrillist requesting a comment for this story, but in a recent interview, the precinct's traffic safety officer told Streets Blog that the precinct issues three biking tickets to every two motor vehicle citations.
The 5th Precinct is just one example of a system-wide problem. If cops are writing tickets for not-deadly biking behavior (something officers themselves often brag about, and are commended for) they can't be policing the streets for deadly driving. When officers are told to ticket a certain number of bikers, said Samponaro, they aren't enforcing the city's newly lowered 25mph speed limit or failure-to-yield violations.
"Don't pretend that the cyclist who slowly rolls through a red light at a T-intersection is as big a hazard as the trucker who makes a turn without signaling," exclaimed Liam of CIBL, "or the driver who obstructs the crosswalk and forces pedestrians out into traffic. To focus equally on ticketing those disparate offenses is a terrible use of limited resources."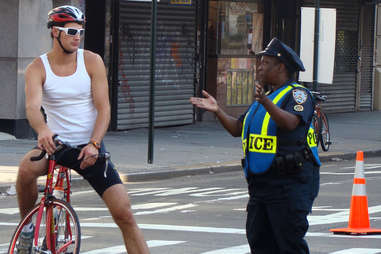 A few bad apples make everyone hate you
Like any, the New York cycling community has its share of bad actors. "You can't ignore the fact that some cyclists behave according to their own interpretation of the traffic rules," admitted Vaccaro, pointing out how many cyclists routinely roll through red lights. (According to a recent study from Angotti's team at Hunter College, one in 10 cars do the same thing.)
Does this make us criminals? Technically, yes, but many cyclists, including Bevins, believe rolling reds actually makes them safer. "[It] gives me a good 25-second head start [on the cars stopped at a standstill], to claim my space in the road, and establish my right to be there. Drivers are generally good about respecting you as a moving entity in the road if you're already there, already doing your thing."
By the time the ambulance arrived, the biker was dead.
On the other hand, "I cringe when I see someone on a bike blow through a crosswalk filled with people on foot," admitted Gordon. Cyclists who dangerously flout the law (riding against the flow of traffic, also known as "salmoning") instead of discreetly ignoring it (rolling reds at T-intersections) make some New Yorkers hate the whole biking community. "People feel like 'Oh, bicyclists! I was almost killed!' I think those people are crying wolf. But what they're angry about is: 'that bicyclist stole my right of way,'" pointed out Vaccaro. "That's what makes people feel like cyclists are self-entitled."
It makes pedestrians scared of cyclists, too. When cyclists break the law and get caught, "[t]hat cop interaction can indulge in this [conception that] it's 'bikes vs. pedestrians,' which the data is absolutely not [saying]," lamented Samponaro. "Your biggest concern as a pedestrian is speeding cars." Bevins summed it up: bad bike behavior is "really just bad for all of us."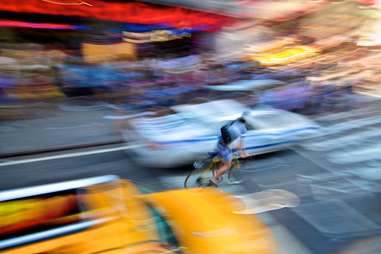 Conclusion
On a Monday morning in July 2015, a man rode his bike into an intersection in central Brooklyn. This particular stretch of pavement, where Flatbush and Atlantic meet and break around the Barclays Center, is a football field of grooved asphalt and multi-directional stoplights that's always crawling with activity. The sun was shining and it hadn't recently rained; road conditions were perfect for the 7am commuter rush.
It wouldn't matter. At 7:05am, a driver on 4th Ave would lose control of his SUV, collide with a sedan waiting at the light on Dean St, and hurtle over the intersection's concrete median. The man on the bike would be crushed by the careening vehicle, his handlebars and gears wedged in wheels. By the time the ambulance arrived just a few minutes later, the cyclist would be dead.
Ten blocks away and an hour later, I'd buckle my helmet, leave my apartment in Fort Greene, and make a mental note. What a beautiful day for a bike ride.
This is the devil's bargain of riding your bike in New York City. It's a glorious activity, right up until the moment when you get killed. "For me, cycling in NYC is 75% value, 25% burden," Neistat, the filmmaker, hypothesized in an email to Thrillist. The upshots are many -- it's convenient! Cheap! Fun! Healthy! -- and the downsides are few. But they're also severe. You can die out there, and people do.
75/25 may be an acceptable gamble for some New Yorkers (Neistat: "That's a far better ratio than the subway or a taxi"), but riding a bike in NYC shouldn't be a gamble in the first place. It shouldn't be scary, or confusing, or expensive. "On the most basic level," mused Samponaro, "the bike is a great way to take pressure off the [transit] system." It's inexpensive to both the city and citizenry. It's easy. It's sustainable. And of course, at its best, cycling transcends simple utility; it can be a thrilling experience. New York City should be the best biking city in the country. We'd all benefit -- pedestrians, drivers, and cyclists.
Without better infrastructure and enforcement, though, most of New York's expanding population will continue to be scared to ride. People will pack into overcrowded trains, jam streets with more cars, and remain convinced that underserved cyclists are over-entitled assholes. Meanwhile, the people who do ride will keep getting ticketed for scofflaws and crushed by SUVs.
Does that sound like the best biking city in the country to you?
Sign up here for our daily NYC email and be the first to get all the food/drink/fun New York has to offer.
Dave Infante is a senior writer for Thrillist. Follow @dinfontay on Twitter, Instagram, and Facebook.