Work On World's Tallest Ferris Wheel To Start Next Month in NYC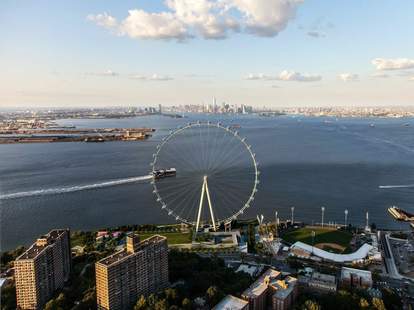 Courtesy of New York Wheel
Construction is slated to begin next month in Staten Island on what is expected to be the tallest ferris wheel in the world, developers of the project announced Monday. 
When completed, the ferris wheel — or the New York Wheel — will tower a ridiculous 630ft above a harbor situated on the northeast side of Staten Island, right next to the Staten Island Yankee's home, Richmond County Bank Ballpark, and just a few steps from the Staten Island Ferry. A ride will last 38 minutes, and the wheel will hold 1,440 passengers who, besides checking out views of the city from above, can watch a "4D subway ride simulation" of a theoretical Manhattan-to-Staten Island subway line, according to a summary of the project..
There were also plans for bar cars on the wheel, DNAinforeported. Which: whoa, if true. Booze on a 630ft ferris wheel sounds like the best bad idea since some people said they were going to put a huge slip n' slide in Manhattan this summer. 
An invite-only groundbreaking ceremony for the $230 million project is set for March 10 and the New York Wheel is expected to open for business in early 2017. Currently, the title of world's tallest ferris wheel is held by the 550ft-tall High Roller at the Linq Hotel & Casion in Las Vegas. In comparison, the London Eye stands at 443ft tall. 
Courtesy of New York Wheel
In addition to the massive ferris wheel, the development project also includes a 350,000sqft outlet mall, Empire Outlets, as well as a 190-room boutique hotel right next door to the wheel.
When reached by email Monday, Travis Noyes, a spokesman for the New York Wheel, declined to comment, saying he's on a "gag order" until the groundbreaking ceremony, which is probably the first time ever someone has had a gag order regarding a ferris wheel.
Tony Merevick is Cities News Editor at Thrillist and admits that he can barely handle the Wonder Wheel at Coney Island. Follow him on Twitter @tonymerevick.