Your Lame "Hoverboard" Is Also Illegal in NYC
If you're one of those super cool people zooming through the crowded sidewalks of NYC on a self-balancing electric scooter, or "hoverboard," the NYPD has got some news for you: you're breaking the law.
Make no mistake, you're way too technologically advanced to merely walk on your two feet among the rest of us luddites, but the next time you lazily glide by in a flash of blue LED light, there's a chance you could be slapped with a $500 fine, according to a report by Gothamist. While hoverboards may seem like expensive and -- admit it -- ridiculous toys, the NYC Department of Transportation classifies the devices as motor vehicles, and because they cannot be registered with the DMV, they're prohibited under the law, per the report. Ultimately, the NYPD and the Parks Department have the ability to enforce the rule. 
Talk of the issue appears to have been sparked by Captain Gil Morales, commanding officer of the NYPD's 26th Precinct. On Monday, Morales tweeted a warning to New Yorkers saying, "Be advised that the electric #hoverboard is illegal as per NYC Admin. Code 19-176.2 #Morningside #Harlem #Christmas" alongside a photo of a hoverboard. However, the tweet looks like it was removed as of Wednesday morning, but we have a screenshot of it here: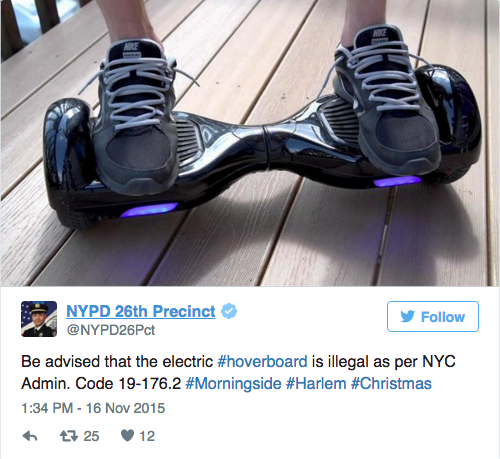 Additionally, the Gothamist report finds that the code Morales pointed to, in fact, doesn't explicitly forbid hoverboards in NYC, which could explain why the post was removed. Regardless, the message from the NYC Department of Transportation is clear, and a spokesperson for the NYPD confirmed this in a statement to Thrillist: "'Hoverboards' are prohibited by New York state Law since they are considered motor vehicles that cannot be registered with the Department of Motor Vehicles." There you have it.
Obviously, outlawing hoverboards is a damn shame, considering how great it is when people fall on their asses.
Sign up here for our daily Thrillist email, and get your fix of the best in food/drink/fun.
Tony Merevick is Cities News Editor at Thrillist and doesn't mind watching people fall off these things. Send news tips to news@thrillist.com and follow him on Twitter @tonymerevick.