The Jose Cuervo Express Is Hosting a Day of the Dead Train Ride with All-You-Can-Drink Tequila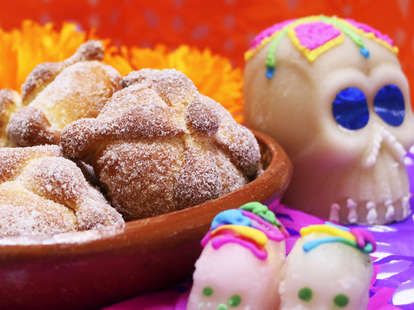 Courtesy of Jose Cuervo
Courtesy of Jose Cuervo
Día de Muertos, aka Day of the Dead, is a three-day Mexican holiday that honors the afterlife. And this year, Jose Cuervo's tequila train is celebrating with a, uh, spirited bash. Before we get into it, yes, Jose Cuervo has a tequila train. It's called the Jose Cuervo Express.
Because the booze company clearly knows how to party, the weekend will kick off at the birthplace of the good stuff, Tequila, Mexico. "They'll be part of traditions like the altar lighting and a procession, plus there will be live music, tastings, and storytelling," a rep for the company told Thrillist via email.
On Saturday, November 2, you'll visit the agave fields and La Rojeña Distillery where Jose Cuervo is actually made, before hopping aboard the Express Sunset Train. The train -- and I cannot stress this enough -- is like heaven on Earth, which is fitting since we're celebrating the afterlife and all.
But in case you've been living under a rock, Jose Cuervo's all-you-can-drink train ride is a luxe travel excursion that runs between Guadalajara and Tequila. And while games, tastings, and scenic views make the experience festive year-round, they are a few surprises in store for Day of the Dead.
You can book your hotel, train, and excursions over on the Mundo Cuervo site. Tickets for the Jose Cuervo Express are currently $107, and considering the whole endless booze aspect, that's a steal.
Sign up here for our daily Thrillist email and subscribe here for our YouTube channel to get your fix of the best in food/drink/fun.