Finally, Londoners Can Enjoy Their Cocktails in the Nude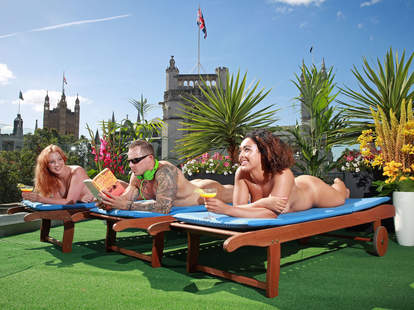 Sweaty Londoners are getting a break from the heatwave hitting their city this month. NOW TV, a British internet television service, opened a nude pop-up terrace bar in central London with views of sites like Westminster Abbey, the London Eye and the Houses of Parliament. Finally, a way to see the city's most iconic sites without the burden of clothing and fanny-pack toting tourists.
NOW TV, which requires no contract for their streaming service, wants the nude pop-up to appeal to today's "No Strings" generation. The company completed a survey and found modern twenty-somethings have been in 38% less serious relationships, lived in 28% more countries and worked for 15% more companies than those 30 years ago. If you're that detached in life, apparently clothing is the next burden you're ready to be rid of.
The open-air bar is set up with multiple sunbathing areas, what appears to be tropical cocktails and trampolines so tipsy revelers can partake in a naked workout during happy hour. Would-be nude imbibers must be 18 and can reserve a spot at the terrace bar by emailing their name, age and email address to comboterrace@taylorherring.com.