NYC Bar Offers Free Booze in December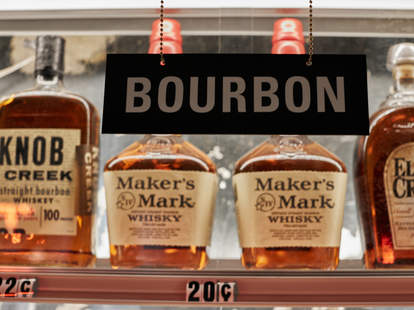 Inspired by Secret Santa, White Elephant and Russian Roulette, one New York bar is offering its patrons a chance at free booze this holiday season. We think you'll agree that booze is way better than the soap-on-a-rope you ended up with in last year's office Yankee Swap.
Here's how it works: Genuine Liquorette, the casual-cool, free-wheeling bar below Genuine Superette in New York's Little Italy, allows patrons to grab a bottle right off the shelf and hand it to a bartender to pour out into shots or cocktails (guests are charged by the gram). It's all part of their "Rough Justice" program, and it's available every day at the bar. But throughout December, one of those bottles is going to be free. You won't know if you were lucky enough to choose the right bottle until you get the check and see that beautiful zero, so pass out rounds at your own risk. To keep people from gaming the system, the free bottle will be different every night.
Even if you don't manage to score the free bottle, you can score big on Instagram thanks to the bar's "Cha-chunker" and the adorable mini cocktails in cans it produces. And unlike real Russian Roulette you can always try again the next day.