NYC's Beloved Holiday Pop-up Bars Are Coming to a City Near You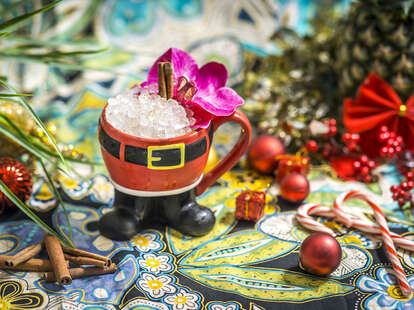 The Christmas season is fast approaching, which means the return of Manhattan's favorite pop-up cocktail bars: Miracle on Ninth Street (normally Mace) and Sippin' Santa's Surf Shack (a.k.a. Boilermaker). This year, though, New Yorkers won't be the only ones who get to sip a cocktail out of Santa's pants. The two bars are taking their coveted holiday-themed libations around the world.
"As crowds swarmed the New York location over the past two years, I started receiving other calls from friends throughout the bar industry who wanted to know how they could recreate the holiday magic on their turf," says Mace co-owner Greg Boehm. "Expansion became inevitable."
He and Mace manager Joann Spiegel have partnered with several bars around the world including Danico in Paris, Fox Bar at Chicago's Soho House and The Gin Joint in Charleston, South Carolina, to host glorious pop-ups bedecked in garlands, wreaths and other festive garb.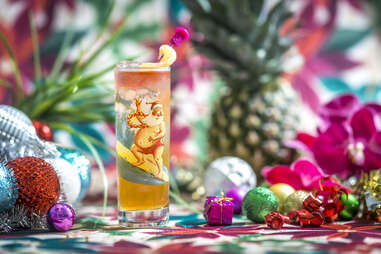 "We got in touch with friends in the cocktail business or friends of friends," Boehm says. "Knowing people in advance and the level of their expertise as an operator was a key factor, but not the only one. What sealed the deal for us was when we chatted with people about this, they lit up and got excited. It was that special energy they would need to get them through a month of holiday festivities without losing their Christmas cheer!"
Cocktails offered at the participating Miracle bars include many favorites from Mace's other co-owner and bartender, Nico de Soto, including the aptly-named Christmapolitan. And yes, they'll be served in the same, coveted cocktail glasses found at the original Manhattan locations.
The tiki-themed Sippin' Santa's Surf Shack will also return to New York this season, with an additional two locations cropping up in Chicago and New Orleans. Boilermaker's lead bartender Samuel Gauthier collaborated with Paul McGee of Lost Lake in Chicago and Jeff Berry and Brad Smith of NOLA's Beachbum Berry's Latitude 29 to curate a list of nine cocktails to be served at all three locations. The new beverages include "...and a Parrot in a Palm Tree" with tequila, mezcal and curaçao, as well as the "Hawaiian Milk Punch," featuring bourbon, balsam liqueur, cream and chai syrup.
All pop-up locations will be open until December 24. Here is the current list of all participating bars:
Mace, New York, NY
Boilermaker, New York, NY
Fortina Armonk, Armonk, NY
Fortina Stamford, Stamford, CT
Planter's House, St. Louis MO
The Gin Joint, Charleston, NC
Nexus Bar, Montreal, Canada
Rockford Cocktail Den, Edmond, OK
Mockingbird Hill, Washington D.C.
Westbound, Los Angeles, CA
Tapa Tapa, Atlanta, GA
Fox Bar at Soho House, Chicago, IL
Lost Lake, Chicago, IL
Rye, Louisville, KY
The Trap, Athens, Greece
DANICO, Paris, France
Latitude 29, New Orleans, LA