This 'Rick and Morty' Pop-Up Has Incredible Show-Themed Cocktails
Prepare yourselves for the multiverse, because there's a new Rick and Morty themed pop-up bar in Chicago complete with specialty Rick and Morty cocktails.
Replay, an arcade bar in Lincoln Park, launched what it's calling "Blips and Chitz: a Rick and Morty Pop-Up" on January 24. The bar has a thing for landing solid themes, and was a Moe's Tavern pop-up last Halloween.
"As we were brainstorming for our next pop-up, we wanted something that was currently relevant and people would enjoy," owner Mark Kwiatkowski told Thrillist. "We knew this was an idea that would appeal to the public due to its growing popularity."
There's plenty of schwifty swag and referential decorations, but the true draw is the cocktails, all of which Rick himself would approve.
There's Morty's Mind Blowing Margarita, which is three parts tequila, one part mezcal, Szechuan simple syrup and a smoke-lime Szechuan peppercorn rim.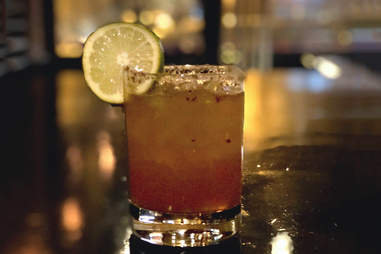 Jessie Koerner / Replay
The Rickhattan, made with Evan Williams Single Barrel bourbon, Punt é Mes, Angostura bitters and cherry bitters, which comes in a keepsake "Get Schwifty" flask.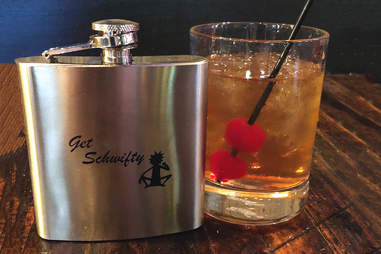 Jessie Koerner / Replay
The Dark Matter, which is made with Gosling's Black Seal rum, cold brewed Dark Matter coffee syrup, demerara syrup and vanilla bark bitters.
Jessie Koerner / Replay
Finally there are the Pick Rick shots, served with your choice of pickle-infused whiskey, vodka or tequila in a hollowed out pickle.
Jessie Koerner / Replay
Get there now, because the pop-up is only open until February 11.