Rosé Ice Pops Are Here to Take Over Summer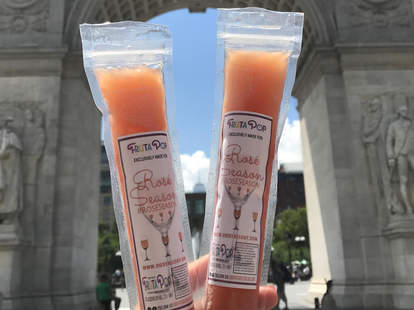 Rosé drinkers are an innovative lot, and during the unrelenting days of summer, they're constantly inventing new, colder ways to drink up that pinnacle of pink indulgence. This summer alone has seen the rise of rosé delivery, rosé 40s and Frosé avalanching from slushie machines and home blenders. And now we have rosé ice pops. We've officially reached peak chill.
The mad-chill food scientists over at FrutaPop partnered with Rosé Season, a "rosé lifestyle advocate and promoter" (an apt description for every beach-bound influencer), to create the blushing pops. At about 5 percent ABV, the pops will do more refreshing than intoxicating, but when they come in tempting flavors like Coconut Rosé Sangria and Watermelon Mint Lemonade, you'll be glad there's nothing stopping you from having another. And, since the pops come in packs of 12, 24 and 48, you certainly can.
After working with a New York restaurant to create an adult lemonade stand, FrutaPop has become one of our favorite providers of boozy summer bliss. Their entry into the rosé game has us wondering if this rosé arms race will ever end—though we can't say we want it to.