If your dream was to buy the tiniest-ass apartment in San Francisco, then that dream has slipped away.
Pegged as the tiniest condo in SF, this 291sqft glorified college dorm room at Seventh St and Howard in SoMa just sold for a cool $415k, cash.
Although the sellers of the pad were initially looking for $299k (kind of a bargain in San Francisco!), the final closing price worked out to $1,426 per square foot, which is about 39% OVER the asking price (not as much of a bargain in San Francisco!).
Recommended Video
Art of the Meal: Chloe Rose Makes Super Mario Bros Art With Hot Sauces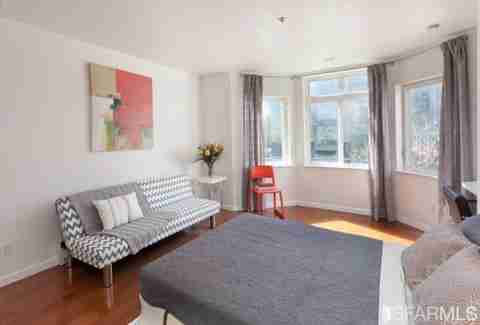 It may seem a little pricey for its size, which it is, but the place actually looks pretty nice if you don't mind the smaller quarters. It features newish-looking hardwood floors and a lovely bay window...
... some closet space and a micro-kitchen for cooking up adorable tiny vittles...
It also has a cozy bathroom, which should come in handy!
And the best part? With the bed folded up, there's actually room for activities!
We won't necessarily call the buyer lucky, but if they're single, clean, and can survive on a few packets of Easy Mac and tap water for weeks at a time, they might have just found their dream home.
(h/t Curbed San Francisco)
Sign up here for our daily San Francisco email and be the first to get all the food/drink/fun SF has to offer.
Pete Dombrosky is an Editorial Assistant at Thrillist and he could have totally bought and lived in this place if it wasn't for the whole $415k price tag thing. Follow him on Twitter @Pete_Dombrosky.