Starbucks Is Now Shaking up Whiskey-Flavored Coffee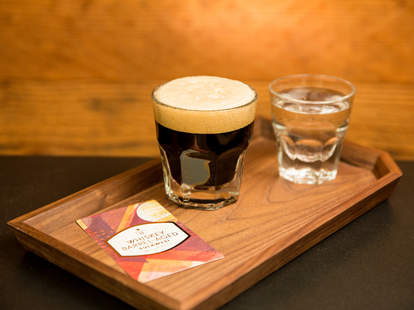 Starbucks is usually filled with the sounds of pressurized steam and baristas' awkward attempts at pronouncing customer names, but soon a new sound will echo through the coffee house: the rattle of a cocktail shaker. The chain is expanding their whiskey-flavored coffee offerings, originally launched at the Seattle Roastery back in March, to locations across the country in the form of their new "Whiskey Barrel-Aged Cold Brew, Served Straight Up" (only slightly easier to say than your usual grande frap order).
According to a press release, the beans are stored in used oak barrels from Woodinville Whiskey Co. for several weeks, then roasted and steeped to make cold brew that tastes of the spirit (but won't get you drunk). The original R&D version earlier this year was mixed with vanilla syrup and served in a carafe with a rocks-filled lowball glass. This go-round, the vanilla syrup is also barrel-aged, doubling the booze flavor. But it's the cocktail shaker that's the game changer, totally transforming the drink from a simple neat cold brew to a frothy shaken mocktail, complete with a foamy head. While it does still come in a lowball glass, it's served straight up as promised.
Not every location will receive the new drink. The straight up cold brew will be available exclusively at Starbucks Reserve coffee bars in select cities. If you're already hearing the siren song of the shaker tin, you can head to one of the following spots to get your newest cold brew fix before warm weather ends: New York at 10 Waverly Place and 85th & Madison; Los Angeles at 4th and La Brea; the Chicago area at North & Damen, Oak & Rush, and Western & Deerpath; the Bay Area at Stevens Creek & DeAnza in Cupertino, Broadway & Hamilton in Redwood City, and Blossom Hill Pavilion in Los Gatos; Dallas at McKinney & Olive; and Seattle at 1st & University.