Drinking Gin Will Make You Feel Sexier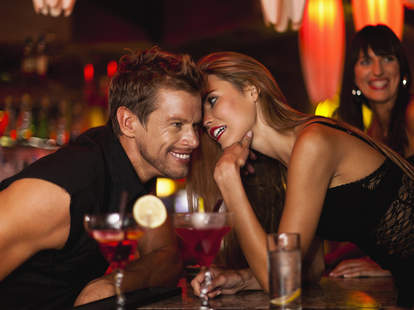 When you're wondering what to order at the bar to look and feel your best, ask for gin. A recent study shows that drinking gin (and spirits in general) will make you feel more sexy compared to drinking beer or wine.
The study was published by BMJ Open, an online medical research journal. It pulled data from the Global Drug Survey and looked at nearly 30,000 answers from people between the ages of 18 and 34 from 21 countries. From that pool of people, more than 40 percent of respondents associated drinking liquors like gin, whiskey, vodka and tequila with feeling sexy.
"Within our sample," the study states, "spirits were more likely than beer, red wine and white wine to elicit the majority of positive emotions when consumed."
Nearly 60 percent of respondents reported feeling energized and confident when drinking spirits, which goes right along with feeling sexy. For comparison, one of the strongest feelings people linked to drinking wine or beer was relaxation, with 60 percent of people saying red wine made them feel tired.
Not only will they make you feel better, but gin-based drinks also look better. A Vesper Martini and a Gin & Tonic are some of the sexiest drinks a person can order.
You may feel sophisticated holding that glass of fine wine, but it can't match the emotions that a spirit-forward cocktail or spirit served neat can give you. While the researchers weren't able to nail down exactly why liquor raises a person's spirits more than beer or wine, the heart wants what it wants. Science, in this case, only reaffirms our feelings.