Target Is Selling $18 Box Wine That Holds 4 Bottles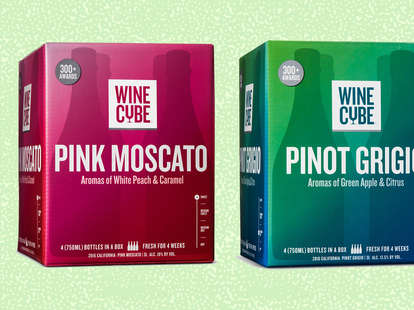 There's something about a deal that gets everyone's head turning. The latest neck breaker: an $18 box wine from Target that holds the equivalent of four bottles. Called the Wine Cube (cube somehow sounds so much classier than box), Target's new vino comes in Sauvignon Blanc, Pink Moscato, Riesling, Cabernet Sauvignon, Pinot Noir, Pinot Grigio, Chardonnay and a red blend.
The Wine Cube isn't Target's only foray into budget wines. Last year, Target debuted a range of wines called California Roots, a line of $5 bottles that either tasted like $20 wine or was completely undrinkable, depending on who was doing the tasting. Regardless of your opinion on the taste, though, Wine Cube has a few advantages over California Roots. The Cube breaks down to $4.50 a bottle, and has the added bonus of coming in environmentally friendly packaging that is both beach friendly and appropriate for Slap the Bag.
Another advantage of the Cube: It has been around for awhile and has the been tried and tested. The earliest online reviews for the Wine Cube come from six years ago. The selection has expanded since then, and the boxed wine drinking public seem to be all about it, although true boxed wine enthusiasts might catch that Wine Cube's capacity of four bottles is less than Franzia's six and a half bottles. A cube, however, still seems so much classier than a box, especially when said cube comes in bright eye popping colors. At the very least, Wine Cube is the perfect party starter for some summer Sangria and wine spritzes.