This $500 Pizza Contains 3 Shots of Tequila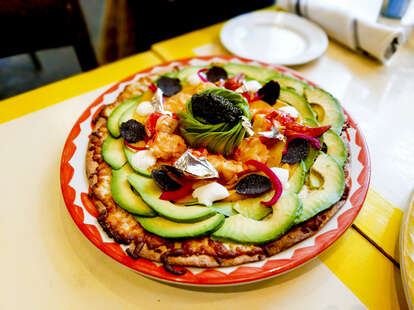 Justine Sterling / Supercall
This National Margarita Day—which is today and somehow not a federal holiday—don't just celebrate with a Margarita, but with a real-deal Margarita pizza made with three shots of seriously luxe tequila. Oh, it also includes osetra caviar, shaved black truffles, one-and-a-half avocados, lobster and edible platinum (yes, that's a thing). The only catch: It comes in at $500 a pie.
Served at New York's Bodega Negra, the Platinum Margarita Margherita Pizza is the love child of chef Michael Armstrong and Patrón. It serves up to three straight-up ballers and is infused with both Patrón Burdeos (a $500 añejo tequila finished in Bordeaux wine barrels) and Gran Patrón Platinum (a $200 oak-rested silver tequila). The tequila isn't just dumped onto the pizza, though—not that we would have a problem with it if that was the case. Instead, Armstrong cooks the mango and lobster in the Burdeos for a rich and sherried flavor, and stirs the Platinum into a crema, which he dollops onto the pizza before serving. The special pizza will only be available on the menu today, but, should you find yourself craving some boozy 'za a few weeks from now, guests will be able to put in an order for the pizza with 48 hours notice.
If you can't afford to drop $500 on a few slices, celebrate National Margarita Day by whipping up a pitcherful of everyone's favorite tequila cocktail and drooling over these pictures of the insanely over-the-top pizza in the making.

Chefs start with a tortilla pizza topped with four cheeses and tomatoes, then layer on a thinly sliced avocado.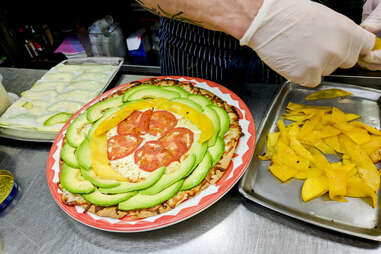 Next come the mangos, already glazed with Patrón Burdeos.
Chunks of sweet lobster, also glazed with Patrón Burdeos, follow, along with a beautiful avocado flower.
Chefs nestle thin slices of aromatic black truffle into the layers.
They top the avocado flower with a hefty scoop of caviar, and dot the pizza with the tequila-infused crema. Then, to finish everything off, chefs carefully drape thin sheets of edible platinum leaf onto the pizza. When we said it was over-the-top, we weren't lying.