All the Cocktails You Need to Try on Three Dots and a Dash's New Menu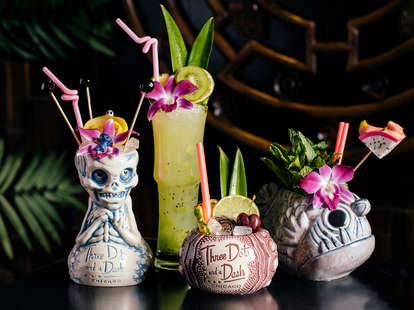 We believe that every season is tiki season, but summertime always makes us crave the sweet, boozy taste of fruity tropical drinks even more than usual. And while we love mixing our own icy concoctions at home, there's nothing like sipping an expertly-made tiki drink that was crafted by the pros. Three Dots and a Dash, one of our favorite tiki bars in America, just released their brand new cocktail menu and gave us an exclusive look at all of their deliciously boozy delights.
Julian Cox—beverage director of Lettuce Entertain You Enterprises—and Three Dots and a Dash resident beverage director Kevin Beary worked together to create the new menu, ditching heavier ingredients to focus on those that are worthy of the warmer months. "We wanted to play with the current season by making the cocktails a little lighter and brighter," Cox says. "We've used on-season ingredients like violet, mango and guava to lend light, refreshing notes for easy-to-drink cocktails that are intended for hot summer days and nights."
Expect to see some reinvented classic tiki cocktails alongside signature drinks developed by Cox and Beary. The team experimented with a few ingredients that previously weren't found behind the bar at Three Dots and a Dash, like black cherry juice, the Japanese milk soda Calpico, and mango brandy from Rhine Hall Distillery in Chicago. You can expect each new libation, whether classic or original, to take you to a tropical destination far, far away. "That is, after all, the concept of making tiki drinks: to transport you to a happy vacation place," Beary says. Check out all the new cocktails, below.
Long Walk Short Pier
Blanco tequila, mezcal, guava, housemade fassionola with passionfruit, pomegranate and red cherry, ginger and bitters
"I perfected our housemade fassionola for this menu," Beary says. "Fassionola is an old school tiki syrup and a recipe mystery. I created ours with freshly pressed black cherry juice, fresh pomegranate and passion fruit. It's very time and labor intensive, but the result is well worth it—it tastes like summer in a syrup! While this is a classic tiki cocktail component, we make it modern by using mezcal, tequila, guava, lemon and lime for the Long Walk Short Pier."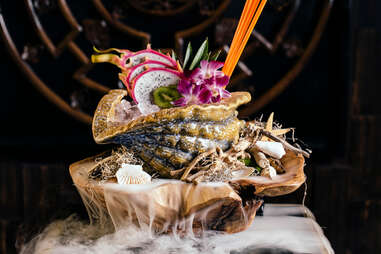 Rock Out with Your Conch Out
Three Dots and a Dash's secret rum blend, lime, grapefruit, pineapple, pomegranate, falernum and absinthe
Wiki Wiki
Martinique rhum agricole, mango brandy, pineapple, lime and kiwi
"The Wiki Wiki is my favorite cocktail on the new menu because I love agricole," Beary says. "This is our seasonal take on a swizzle with lime, kiwi and a local mango brandy."
151 Swizzle
151 proof demerara rum, lime, cane sugar, absinthe, bitters and nutmeg
Saturn
Navy strength gin, passionfruit, orgeat, falernum and lemon
"While we previously had this classic gin cocktail on our menu, what makes it unique this time around is that it uses Kevin's recipe for house-made falernum and a really incredible gin, which takes it a step up from the previous iteration," Cox says.
Pandan Painkiller
Jamaican pot still rum, Barbados rum, coconut, tangerine, pineapple and pandan
"The Pandan Painkiller is my favorite new cocktail because it's fun and pays homage to the classic Painkiller and our bar takeover during the James Beard Awards this year, in which we collaborated with Trick Dog in San Francisco and Dirty Dick in Paris to offer this variation," Cox says.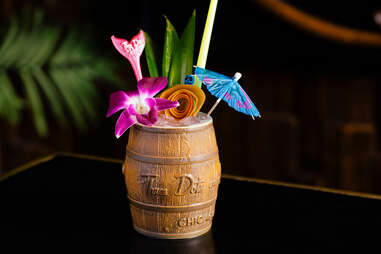 Rum Barrel
Three Dots and a Dash's top secret rum blend, mystery spices and exotic fruit juices
Fangtooth
Banana pot still rum, demerara rum, amaro, lapsang tea, lime, pineapple and allspice
Violet Revolver
Martinique Blanc Agricole, mango brandy, Super Violet, mango, Calpico, pineapple, lemon, lime and Pop Rocks
"I really enjoyed the experimentation that went into making the Violet Revolver, which incorporates Calpico—a milk-based soda from Japan—and Pop Rocks. It's a really fun cocktail with interesting and unexpected ingredients," Cox says.