Relive Your Childhood with These Capri Sun-Style Cocktails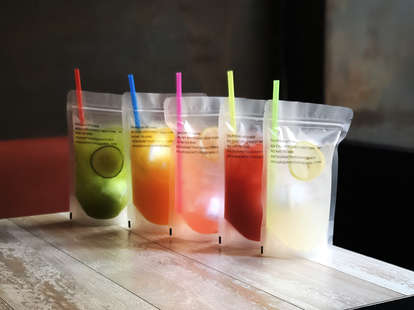 Nickolaus Hines / Supercall
Nickolaus Hines / Supercall
From the outside, Thursday Kitchen's subterranean entrance seems mysterious. The door is below street level and the only two front-facing windows are curtained off. Still, a crowd tends to gather on the sidewalk outside in New York's East Village to wait for a table. Many go for the Korean food, others because of a friend's recommendation. But to see how most people learn about Thursday Kitchen, all you have to do is open Instagram.
On any given night, Thursday Kitchen is filled with glowing, Capri Sun-esque plastic pouches filled with soju cocktails. The drinks are lit with light-up ice cubes, each color corresponding to one of the five flavors of "Capri-Thursday" drinks. A colorful straw pokes out of the top, and slurping down the drink is just as satisfying as you remember crushing a Capri Sun was back in your youth.
"The drinks initially started as a way to lure people to the food more," Bernard Kim, the general manager and partner in Thursday Kitchen, says as a bright strawberry pouch is filled at the bar behind him. "It was like, 'What is going to attract someone to this restaurant?' Well, everyone loves booze. We're in the East Village and we studied the demographics and we were like, 'OK, we know what we need to do.'"
That was in 2016, when the restaurant was just opening. The location had previously been home to six restaurants in seven years, and longevity in a seemingly cursed spot meant finding a steady stream of new customers. It doesn't help that East Village is crowded with plenty of bar and restaurant options.
A friend had gone to South Korea and seen a bunch of bars serving drinks in things that weren't conventional glasses. That was the initial seed for the Thursday Kitchen team as they brainstormed drink ideas. Then they looked for things that East Village bar goers—primarily people who grew up in the '80s and '90s—would find appealing. Throwbacks were an obvious choice, as evidenced by things like cocktail menus that come with vintage toys and bar crawls littered with '90s ephemera. The winning equation was clear: 20-something-year-old cultural touchstones plus alcohol equals viral fame. The Capri-Thursday cocktail was born, a child of the two millennial mothers of invention: necessity and nostalgia.
The Capri-Thursday cocktails are built off of soju, a distilled Korean beverage that hovers around 20 percent abv. There aren't many soju-only cocktails out there to draw inspiration from, though, so Thursday's recipe development was a time consuming operation.
"We had to move quick [to find the right drink ratio] because every day the restaurant was filling up," Kim says. "People were trying it and giving input, both good and bad." When bad input came, they would tweak the recipe. Start to finish, Kim says, it took about eight months of trial and error to perfect the recipe.
Keeping with the nostalgia theme, Thursday Kitchen put the drink menus on the back covers of Little Golden Books. Then the light-up ice cubes were thrown in, and that's when things just exploded, Kim says.
It would have been easy for Thursday Kitchen to take this nostalgia train straight to the station and call it a day. It doesn't take tasty drinks to draw the masses in after all, just a viral hit. But the drinks inside the Capri-Thursday pouches are worth just as much attention as the packaging.
Lemonie: Made with soju, lemon and simple syrup. Tastes like fresh lemonade accented with bright lemon zest.
Ms. Cutetini: Made with soju, muddled cucumber and lime juice. Tastes cool and refreshing but also like you're doing a good thing for your body by drinking it.
Ruby The GF: Made with soju, rosemary syrup, grapefruit juice and lemon juice. Tastes light and bright, like a semi-tart grapefruit juice.
Pure Strawberry: Made with soju, muddled strawberries and yuzu. Tastes like a fresh strawberry smoothie without any of the thickness.
Lychee Reach Rich: Made with soju, lychee and mango. Tastes like Kern's or Jumex mango juice, but less flat and more fresh.