Cancel your weekend plans, people, because the worst Joaquin since The Village looks like it's going to tighten its wet claws around the East Coast's balls and give 'em a huge slap. Weather.com reports that hurricane watches and warnings have already been issued for the Bahamas, while meteorologists warn NY and D.C. residents to keep a vigilant eye on the potential storm. 
Joaquin is expected to hit the Bahamas Wednesday and Thursday, with the possibility of slamming into Virginia and Maryland this weekend before moving up to the New England area. Weather.com issued a statement saying that is "the uncertainty is too high to determine any impacts from Joaquin itself for the U.S. East Coast at this time," but that doesn't mean we shouldn't start stocking up on Pop Tarts and beer. 
However, Governor Cuomo also has issued a press release urging New York City residents to prepare for heavy rain, high winds, and potential tropical storm conditions: 
"Our state has seen the damage that extreme weather can cause time and time again – and I am urging New Yorkers take precautions for more heavy storms in the coming days,"Governor Cuomo said. "Tropical Storm Lee and Hurricane Irene proved that you do not have to be near the coast to be impacted by Mother Nature. I have directed State agencies to ready their emergency response equipment in partnership with local governments, and I encourage all of our state's residents to be prepared and stay safe."
Recommended Video
Is This $2k Gold Pizza Worth It?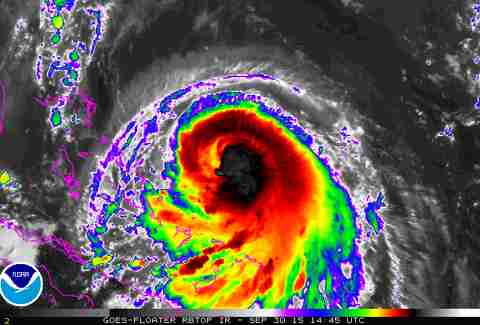 NBC reports that Joaquin was upgraded Wednesday morning from a tropical storm to a hurricane, which—in movie terms—means it's changed status from The Village to I'm Still Here. Yikes. They further report that "Joaquin—the third hurricane of the 2015 Atlantic season—is packing sustained winds of 75 mph as it lurks about 250 miles east of the Bahamas, according to the National Weather Service."
Brunch is cancelled. 
Sign up here for our daily Thrillist email, and get your fix of the best in food/drink/fun.

Jeremy Glass is a new writer for Thrillist and is fully able ruin a weekend without the aid of the weather.