5 Ways Your Drinking Will Change in 2018, According to Whole Foods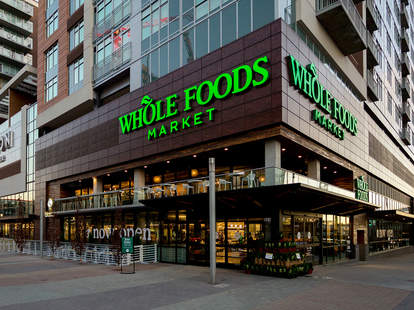 There will be some changes to your drinking preferences in 2018, according to Whole Foods. The beverage team that leads the grocery chain's highly curated alcohol department recently released what they predict the year's beverage trends will be, and 2018 is looking light and bright.
Whole Foods' master sommelier Devon Broglie and drinks industry veteran Doug Bell made their predictions for the next nine months of drinking based on their experience and a number of consumer preference studies. They looked at trends at more than 470 Whole Foods stores that sell beer, wine and spirits. Here's what they found.
Mexican Beer Beats IPAs

Low-alcohol, sessionable beers will be in this year—especially ones imported from Mexico. Whole Foods calls out Tecate and Modelo by name (sorry, Corona), and predicts that light Mexican beer will take the place of big, hoppy IPAs "as consumers move towards simple and delightful lighter-bodied beers."
Bourbon Barrel-Aged Wines Win

Goodbye heavily-oaked wines that use traditional barrels, hello heavily-oaked wines aged in used bourbon barrels. Although the trend isn't "entirely new to the wine scene," Whole Foods believes this is the year that "bourbon barrel-aged wines come into their own" with brands like Cooper & Thief and The Federalist.
Seltzer Drinkers Will Descend on Spiked Seltzer

Low-calorie, alcohol-packed flavored sparkling water will be stuffed into beach coolers across the country. Whole Foods credits the "alluring bubbles" for the trend, which will surely satisfy people who want to feel like they're drinking La Croix 24/7. Time to stock up on lightly flavored sparklers like Truly Spiked & Sparkling, Spiked Seltzer, White Claw and Smirnoff Spiked Sparkling Seltzer.
More Bubbles in General

Did we mention bubbles? Wine spritzers and pre-packaged sparkling cocktails are going to take over the beverage world, according to Whole Foods. We've got you covered on spritz recipes if you're looking.
More Cans, Plastic and Big Bottles

It's not all fizzy alcohol water, sparkling drinks and bubbly beer. The look and feel of things that we drink will change, too. People will buy more double bottles of wine, cans of all kinds and plastic wine bottles.
"Beyond these trends, we predict our shoppers will continue to look for a mix of high-quality and great value as they stock up on their favorite beers and wines," Broglie said in a statement. "Look for more boxed wine options and an emergence of 15-pack canned beers."