Don't Miss Whole Foods' 2-Month Long Rosé Sale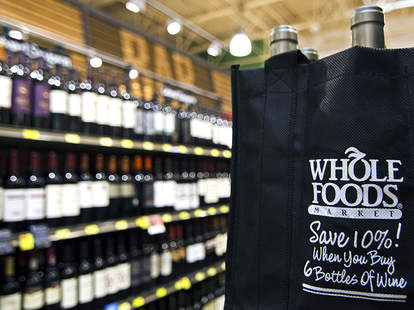 If you've been looking for a go-to spot to buy all of your rosé this summer, you can go ahead and stop. Whole Foods announced that 12 rosés will be on sale from April 4 to May 29, giving you nearly two months to stock up on enough summer water to get you through the season.
The wines were picked by Devon Broglie, a master sommelier and global beverage buyer for Whole Foods. Some favorites from last year like Summer Water and Forty Ounce Rosé are on the list, as well as others from Spain, Portugal, Greece, Argentina and France that are sure to be future favorites. The prices range from $9.99 to $39.99, according to Refinery29.
The full list and taste descriptions of the chosen rosés can be found on the Whole Foods website, but here's a few samples:
Camino Calixo, a sparkling rosé from Spain
Orlana, a Vinho Verde rosé from Portugal
El Terrano, a refreshing rosé from Spain
Skouras, a more complex and food-friendly rosé from Greece
Innovacion, a deep rosé from Argentina
Summer Water, a California rosé with all the right vibes
Forty Ounce, a liter bottle of French rosé
Alivetto, a food-friendly rosé from France
French Blue, a pink (not blue) rosé from France
Folie en Provence, a more full bodied French rosé
AIX, a light and acidic French rosé
Pure Provence, a canned rosé from the most famous rosé region in France
To sweeten the deal even more, Whole Foods will also have a 20-percent off sale on rosé for National Drink Wine Day on May 25. Start preparing now for another summer that's rosé everything. This year, you'll be able to keep your discount wines company with rosé tequila, two different types of rosé vodka, and canned rosé. Disregard the random cold spells that keep dropping snow in April. Warmer months are coming, and you'll be able to sip rosé poolside once again.