Here Are The World's 50 Best Bars of 2017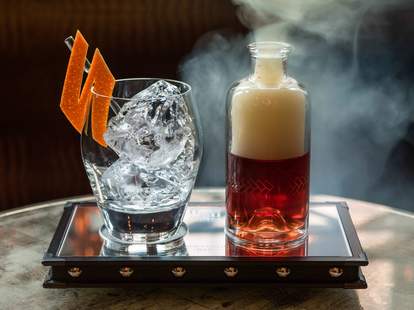 Courtesy of The Connaught Bar
What makes a bar the best? For us, it's a good drink, a cool bartender and a spot that makes you want to hang out all night. The stakes are a bit higher when it comes to The World's 50 Best Bars, though, an annual ranking voted on by 505 voters from 55 countries around the globe. And last night in London's Southwark Cathedral, a new winner was crowned. The Savoy Hotel's American Bar was named the No. 1 bar in the world, followed by Dandelyan, The NoMad, Connaught Bar and the Dead Rabbit.
The yearly list is a big deal to those in the booze industry, with bartenders everywhere hoping to move up a few spots each year. It's run by the same team as The World's 50 Best Restaurants and generally considered a definitive ranking since it's actually bartenders, drinks writers and cocktail aficionados who do the picking. Voters cast up to seven votes and must have gone to any bar they vote for. That means that it's all about the personal bar experience, which ensures that these are actually places you'd want to visit.
This win is significant for the American Bar in particular, as the bar only first entered the top 50 six years ago and has since climbed the charts, landing at No. 2 in 2016. The bar has taken the title of No. 1 from Dead Rabbit, who scored the win last year. London did especially well this year, with eight bars in the top 50 and four in the top 10. New York also scored high with seven bars, including Attaboy, The NoMad, Dante and Mace. Other big city winners were Singapore, Hong Kong and Paris, which means you better start planning your next vacation to one of those spots right away.
It's hard to know if these lists actually dictate whether you will personally like a bar, but it's always a fun game to try to tick off as many as you can. This year, that means you'll need to visit 50 bars in 24 cities in 19 countries (no big deal), and that you'll get to grab a stool everywhere from a cool Sydney speakeasy to several fancy hotel bars in London.
The real question, though, is: How do we become one of the judges?
Check out the full list of The World's 50 Best Bars for 2017 below:
Courtesy of The American Bar
1. American Bar, The Savoy Hotel (London)
2. Dandelyan Mondrian (London)
3. The NoMad Bar, NoMad Hotel (New York)
4. Connaught Bar, The Connaught (London)
Courtesy of Dead Rabbit
5. The Dead Rabbit Grocery and Grog (New York)
6. The Clumsies (Athens, Greece)
7. Manhattan (Singapore, Singapore)
8. Attaboy (New York)
9. Bar Termini (London)
Courtesy of Speak Low
10. Speak Low (Shanghai)
11. Little Red Door (Paris)
12. Happiness Forgets (London)
13. High Five (Tokyo)
14. Licoreria Limantour (Mexico City, Mexico)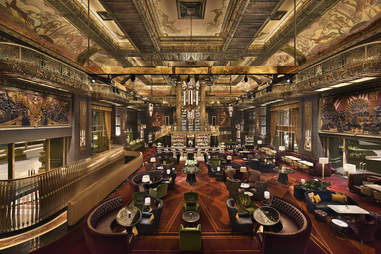 Courtesy of Atlas
15. Atlas (Singapore, Singapore)
16. Dante (New York)
17. Oriole (London)
18. Broken Shaker (Miami)
19. Candelaria (Paris)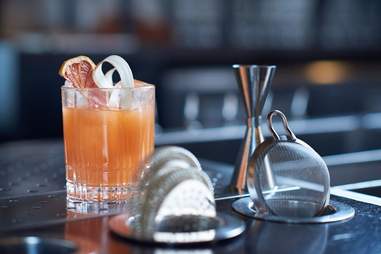 Courtesy of Himkok
20. Himkok (Oslo, Norway)
21. The Gibson (London)
22. Black Pearl (Melbourne, Australia)
23. Floreria Atlantico (Buenos Aires, Argentina)
24. Operation Dagger (Singapore, Singapore)
Courtesy of 28 HongKong Street
25. 28 HongKong Street (Singapore, Singapore)
26. Trick Dog (San Francisco)
27. Sweet Liberty (Miami)
28. Indulge Experimental Bistro (Taipei, Taiwan)
29. Lost & Found (Nicosia, Cyprus)
Courtesy of Baba Au Rum
30. Baba Au Rum (Athens, Greece)
31. Tippling Club (Singapore, Singapore)
32. BlackTail (New York)
33. Jerry Thomas Speakeasy (Rome)
34. Le Syndicat (Paris)
Courtesy of Tales & Spirits
35. Tales & Spirits (Amsterdam)
36. Bar Benfiddich (Tokyo)
37. Employees Only (New York)
38. Schumann's (Munich, Germany)
39. La Factoria (Old San Juan, Puerto Rico)
Courtesy of Quinary
40. Quinary (Hong Kong)
41. Aviary (Chicago)
42. Mace (New York)
43. Nightjar (London)
44. Linje Tio (Stockholm, Sweden)
Courtesy of The Baxter Inn
45. The Baxter Inn (Sydney, Australia)
46. ABV (New York)
47. Native (Singapore, Singapore)
48. Tommy's (San Francisco)
49. Lobster Bar (Hong Kong)
50. Imperial Craft (Tel Aviv, Israel)