Target Is Selling Yes Way Rosé Just in Time for Summer Water Season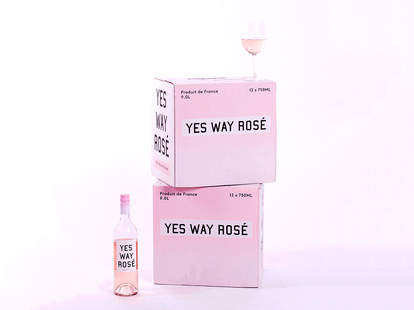 Sara Kerens / Yes Way Rosé
Rosé alert: Yes Way Rosé, the Instagram account that best personifies the rosé lifestyle, finally has its own signature wine. It'll be available at Target starting in March, just in time for summer water season. Now you can carry around a bottle that lets everyone know how you really feel.
The Yes Way Rosé Instagram account was started by fashion editor Erica Blumenthal and art director Nikki Huganir in 2013. Rosé "had a special effect on us, turning any time, no matter how low key, into something special," the two told the Target blog when asked why they devoted themselves to rosé. In the past four years, the passion project has turned into an all-encompassing lifestyle brand that grew along with the public's thirst for pink wine. Now, they finally have a rosé of their own to go in their branded totes.
Blumenthal and Huganir traveled to the south of France—the motherland of rosé—to develop their wine. The resulting blend is described as a "premium rosé that's dry and complex with tasting notes of strawberry, citrus and white peach." And it's perfect for the poolside, naturally. "Yes Way Rosé is best served chilled while chilling," the two told the Target blog.
Yes Way Rosé is the second wine project by the brand. The first was Summer Water, a collaboration with the wine delivery service Winc. The Target release makes it easier than ever to get your hands on a bottle that represents the Yes Way Rosé lifestyle. The wine will be available starting March 4 in all Targets that sell alcohol for $12.99.