If you appreciate everything you've got, doesn't it stand to reason that with a couple choice enhancements (e.g., breast implants, or breast implants), you'll love it even more? Of course you will -- case in point, Fly Bar. From the peeps behind Fly Bar on Divis, the new FB lives where Brick once did, with some leftover fixtures (that big copper bar, scattered two-tops n' comfy banquettes...bricks), some FB Divis steez (purple n' green walls, casual vibe), and a couple key augmentations that push it over the top by appealing to the kid in you: video games and booze. Food-wise, new FB's similar, i.e., plenty of cheap apps (chicken skewers w/ spicy peanut sauce, roasted-garlic-aided baked Brie, etc), sandos like the meatloaf & provolone on a baguette and the "Smokin'" turkey BLT, plus pizzas ranging from the pepperoni/sausage/prosciutto "MMMMM...Meat" to the portobello/pesto "Shroom Pie", which smells purple, and feels delicious. Trumping its beer-/wine-only predecessor, there's a host of signature cocktails for seven bucks (e.g., pisco sours, dark rum/ginger Island Root Beer, gin/lime Sour Cherry Punch), and a cutty back room that houses the best thing ever: a custom, nerd-built four-player arcade unit complete with cup holders, which costs nothing to play and has "like, every game ever" -- oh, really? It's got Bad Dudes? Since gaming pairs well with beer, FB stocks 30 of 'em (w/ six on tap), including gems like Abita Strawberry lager, Obsidian Stout, and Arrogant Bastard -- exactly what you've become since getting that luscious rack.
Recommended Video
Vodka Drinkers: You Need This Concord Grape-Rosemary Shrub Cocktail
Previous Venue
Next Venue
Venue Description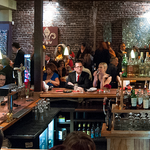 1. Fly Bar
1085 Sutter St, San Francisco, CA 94109
This neighborhood favority displays murals and paintings from local artists, has excellent sangria, and serves nachos that have a cult following. Hit them during the week at happy hour (noon-6pm) to score $6 pizzas and dollar-off beers. Their other location on Divisadero is a great spot to grab a bite after lounging in Alamo Square, a place to meet friends for dinner before going to a show at The Independent, and an excellent option for a low-key first date.