Beer, baseball, and big screens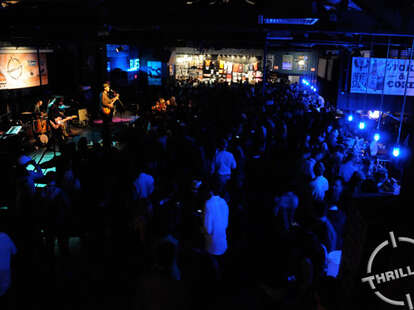 For the first 22 games of the season, Time Warner Cable fulfilled your girlfriend's wildest semisexual fantasy: they blacked out a winning New York baseball team. Now that the Mets are back on television-and the Yankees are again pretending to earn their pay-it's time to reassert your undying devotion. There's no better place to do it than Croxley Ales, our favorite sports-watching beer garden on the East Side.
Sure, you could take the 7 to Queens, but Croxley is closer, less disgusting, and less liable to collapse into a giant, smoking hole in the earth. On the other hand, unlike most sports bars, Croxley's airy deck helps you avoid the feeling that you're somehow courting premature death by spending a perfectly good day surrounded by concrete and white trash.
Of course, we're still in May, when a perfectly good afternoon can drop into the crapper faster than a new workout regimen for that fat guy from 'N Sync. Fortunately, the bulk of the garden is covered by a tent, which is kept comfortable by ceiling fans and heaters. Not that your desire to drink is subject to rainout, but why spend Memorial Day wracked with influenza when you could spend it doing what you did last year
In the end, even the comfort of Croxley's can't immunize you against the harsher effects of being a baseball fan: blowing off work, destroying relationships with loved ones, and risking misery at season's end. But between Croxley's unending beer list and monster big screens, you probably won't even notice you've become single and unemployed.