When you need a cloistered drinking sanctum, it's easy to find a cocktail lounge -- but what about when you want to intimately caress the full-bodied beer of your dreams? Descend into 124 Rabbit Club, opening tomorrow.

An unmarked cellar reminiscent of Midtown's Single Room Occupancy, Rabbit's a partnership between a Death & Co/Bourgeois Pig founder and a former manager of CBGB (who thinks you're the bourgeois pig). Walk down the stairs and buzz the door, and you'll be ushered into a well-appointed sleeve w/ a long brass bar, fuzzy felt wallpaper, and candle votives made from broken beer bottles -- because in such a princely establishment, it's declassé to expect fighting patrons to break their own. Choose from a 30-strong beer list from Ireland, England, Germany, Belgium and the Czech Republic, highlighted by the freeze-distilled Kulmbacher Eisbock, and the winter porter Santa's Butt -- a slightly less crippling body image problem than "Elf Wang".

Grub's hearty Bavarian (pretzel bread sandwiches, pickle platters, etc), and there're also 30 old world wines and wine cocktails -- because to keep beer from taking you for granted, sometimes you need to date its friend.
Recommended Video
Make This Apple Brandy Elderflower Sparkler for Your Next Fancy Party
Previous Venue
Next Venue
Venue Description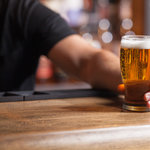 1. 124 Rabbit Club
124 MacDougal St, New York, NY 10012
While this may not be the easiest bar to find in Greenwich Village, it is certainly one of the best. This underground bar serves over 70 imported beers to locals looking to escape the busy city streets and down some German and Belgian brews. The interior is dimly lit and gives off a grunge vibe thanks to a combination of tattered walls and artsy chandeliers.