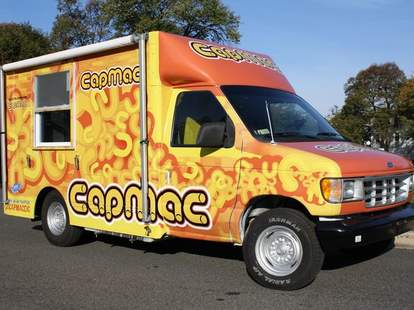 The truly sophisticated can make even the banal seem cosmopolitan, the first step of which is always knowing how to pronounce "banal". For commonly awesome grub from a polished chef, check out CapMac.
Helmed by a cuisin-artist who trained at Bourbon Steak and under a Beard-winning chef in Boston, CapMac's dishing out gourmet mac n' cheese from an 18ft truck that's plastered with orange/yellow decals of flowing macaroni, the likely result of serious yankee doodling. The signature dish is done up stove-top Southern style with sharp cheddar/ roasted red peppers/ smoked paprika/ sweet onion/ a touch of Dijon, and finally topped with a crumbled, baked-together combo of breadcrumbs/ cheddar / Cheeze-It's dubbed "cheese frico", though not cheese Frito, as that would totally part with the chip's proud tradition of tasting like cardboard. Non mac-enthusiasts can feast on intriguingly hybrid ground Chicken Parm Meatballs with tomato/creamy provolone sauce, or whole wheat White Bean & Broccoli Pasta in a creamy parsnip/celery puree, and post-fatten with a risotto-based rice pudding topped with seasonal fruits, which you should expect to taste like itself, especially if it's snozzberry season.
To wash it all down, they've got house-made sodas, and other flavored drinks like Cardamom Ginger Ale and Fennel Lemonade, a mature twist which differs from the classic -- big deal, unless you're totally banal-retentive.