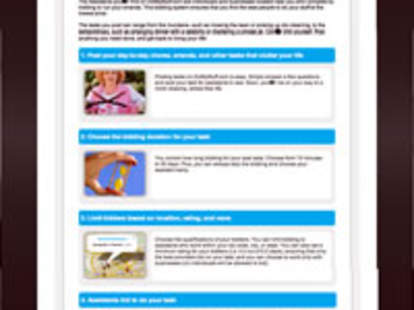 Though the march of online progress has made it a snap to buy things and hump strangers, you're still stuck with taking out the trash and other mundane tasks. Or are you? DoMyStuff.com.
Just getting rolling in New York, DMS is a Craigslist-inspired site devoted exclusively to helping people find suckers to do their chores for them. The basics: You input your location, then describe the legal (or seemingly legal) job you want done, then kick back with a cool beer as other, more desperate users bid on the project. Most posters request everyday drudgeries like dry-cleaning pickup, data entry, even researching apartment rentals. Some posters request The Awesome
"Attend company dinner with me" "Transcribe my diary tapes""Event planner needed for bachelorette party" "Teach me to be spiritual""Teach me to pick up women""Ear cleaning"
and the classic
"Need art for wargame engine"
To prevent swindling, DMS has a ratings system for users, but it won't be effective until they get more members. So to engender intra-party trust, they've added an escrow option: you put down a good-faith deposit, to be released to your errand boy only after he's found you the cheapest Mac Mini on the Internet. And a stranger to hump.